Print Vocabulary in PDF is a handy tool for English vocabulary builders to create their customized worksheets. It can leverage word lists of www.examword.com, covering K12 vocabularies and main English exams: IELTS, TOEFL, PTE, SAT, ACT, GRE, etc.
Also, it lets students edit the definition of each word, remove known word, and add their word list. By the smart and flexible tool, students can create personalized word lists in minutes through powerful resources in this website.
You may get some word lists somewhere; however, you hardly find one to match with your case and level exactly. Either too difficult or too easy will waste your time and effort. It is why tutors always encourage students to learn the right thing at the right time. One word list just for your circumstance is for the goal, and the app will help you to get it.
Here we show you how to create PDF word lists briefly.
1 Account and Sign on
Your word list's data and final file will be stored at cloud until you download them. The app needs Sign-On before starting its features.
At first, you have to create an account at examword.com unless you already have one. To do it, please register an account through Sign-On button at page top. Here you need input an email address, which will be as your account identifier, and then click Register button.
By the email, you will receive an access code very soon. Using both email and access code, you can sign on www.examword.com. This access code is effective for all apps of the website.
How to create an account
2 Load Words
You may add words to printable list anytime. We have two pages to present available wordlists for K12 or ESL students.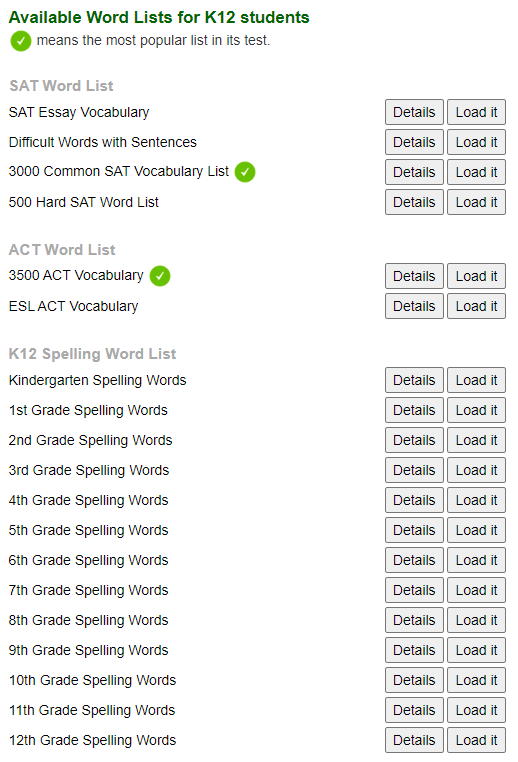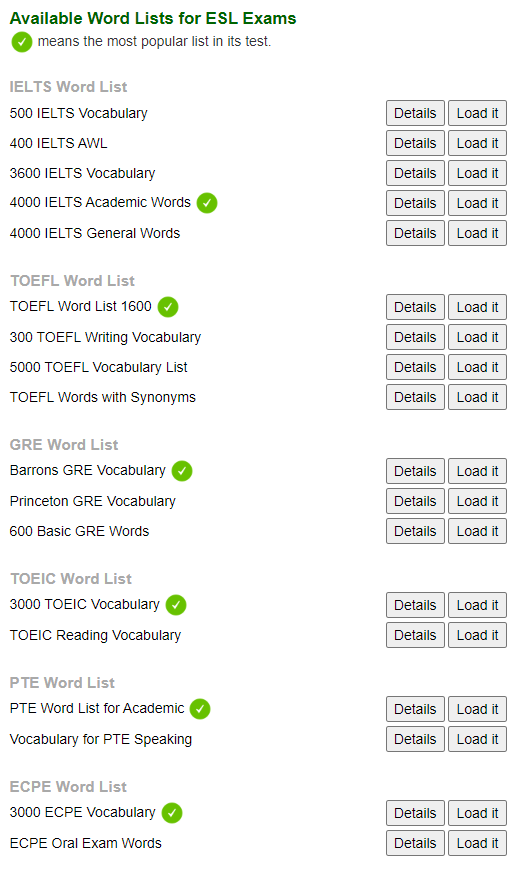 After select source, by Load button you can either import own wordlist or see all available wordlists provided by www.examword.com. In latter case, you can select wordlist that match your requirement. If you loaded something wrong, remove it and re-load right one. The tool is convenient and flexible.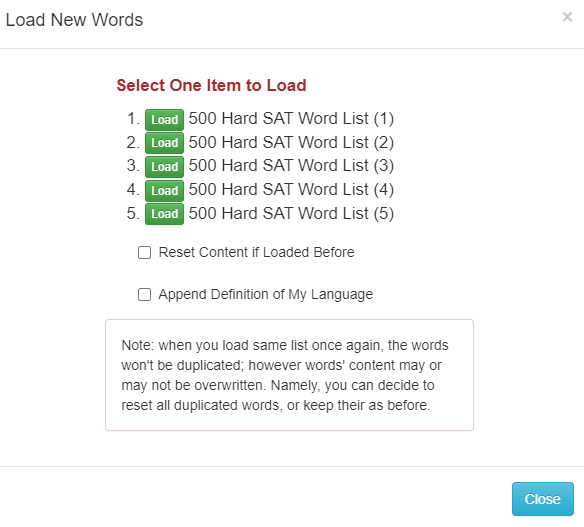 Before load wordlists of the website, you may check two options:
Reset Content to New if Loaded Before: If didn't load these words before, this option does not affect. If loaded, checked means original contents that you possibly edited will be cleaned; unchecked means the existing words will be kept.
Append Definition of My Language: Some wordlists for exams have definitions of multiple languages. If checked, your home language's definition will be appended. How to set ESL language
The website's wordlist usually has hundreds or thousands of words. We have grouped it into sub-lists, also called items. Every time only ONE sub-list/item can be selected and loaded. You can load the same sub-list multiple times; its contents will be overwritten or kept as your options.
Notice that only VIP accounts can load all built-in vocabularies of examword.com. If you sign on with a free account, you may load the first one or two sub-lists of each wordlist. We suggest you try some free sub-lists at first. Buy or subscribe to VIP after you decide to print more words.
3 Edit Word
You can edit words to match your level and requirement. By default, the Edit Word will show all loaded words. You can search by the filter to locate the targeted words quickly.
For each word, there are two actions on the Edit page:
Edit definition: update definition by your idea;
Delete it: remove this word from your list;
You should Submit your Deleting before leaving the current page. You can also Reset the current page if you don't want to delete anything.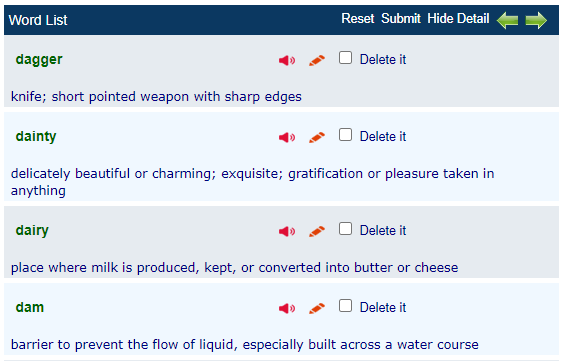 Besides, there is one additional button in the left panel:
Remove All Words: If you think the current list is not fit to you, you may remove all of them.
4 Customized Words
Besides leveraging existing wordlists of the website, you can add own wordlist too.
By select source as "Own wordlist", Load Word page opens an edit panel. You may copy and paste your own words here, and then load them. The maximum is 200 words each time you can upload.
Please ensure your words to follow a fixed but simple format:
word one
definition for word one

word two
definition for word two, line 1
definition for word two, line 2

word three
definition for word three

Unlike wordlists of www.examword.com, duplication checking doesn't work for words in a customized list. If you load the same list more than once, new loading words don't overwrite original words. In this case, please maintain your word lists manually.
5 Update Words and Create New PDF
The app monitors your current wordlist automatically. As long as it finds out that the word list has any change, it will inform you in the left panel to make a new PDF file to download.
If you need to make new files for any reasons, you can open the edit panel of any word from Edit Word, and then save it without any actual update. This fake save will give you the green light to create new files.
6 Others
Word List Size is limited to 300.
To keep the website run in high performance, we limit the wordlist size per loading. The system will refuse any request to load if its word number is more than 300. Of course, the actual vocabulary may be much bigger than 300. In this case, you cannot put your all words into one file. Instead, you should divide the large vocabulary into multiple small ones that are less than 300. Then, you can create and download the PDF file.
Native Language shows as blank.
If you are ESL, and used to add definitions of home language in a wordlist, you can make the final PDF file through Chrome Browser from your local device. Checking your PDF file, in case some characters of non-English cannot normally display, for example, Korean or Chinese show as blank, you should install your native language on the device accordingly.
The examword.com has a PDF's CopyRight if its contents are from the website.
Except those you import with own wordlist, the printed PDF files' copyrights belong to examword.com based on the primary fact: most of the contents come from source wordlists offered by this web site, although you might edit or update more or less.
Want to create own vocabulary PDF file? Try it, it's just a job of 10 minutes!