| | |
| --- | --- |
| 5000 GRE Vocabulary Words | |
1 Overview:
5000 GRE Vocabulary Words is a middle-level words list for test-takers to warm up known words and learn new words. In addition to normal definitions and explanations, the GRE voca also includes online practices, such as meaning matching and spelling. For those who prefer to enhance vocabulary offline or in an old-school way, it offers printable flashcards and PDF files.
If you want to have a better GRE score, you have to own a stronger vocabulary skill. It means that you will spend more time studying GRE words. Does this GRE voca meet your case? We divide the words into 4 levels; each level consists of 4 groups. Want to view them quickly? Watch them here.
2 Alternative GRE vocabularies:
We know one words list cannot cover all GRE test requirements. If you think the 5000 GRE Words doesn't match your circumstance, please try other lists on the website.
However, if you are serious about preparing for GRE, any smaller or easier lists shouldn't be an option unless you use them as a supplement. Here we recommend 2 large vocabularies, which are also useful for enhancing reading and writing words, especially for high score hunters.
3 Words' EBook, PDF, and Cards:
GRE Vocabulary EBook
We have published ebook that exactly matches the 5000 GRE Words. Students can buy from main ebook distributors.
GRE Vocabulary PDF List
Some students like using PDF lists to learn and review words. We do offer a handy feature to make GRE PDF word lists for each group. Below are demos of
Level 1's first group
, including files with 9 non-English explanations.
GRE Vocabulary Cards
Cards are useful tools for some students to study new words. We offer two buttons to make GRE one-side and two-side flashcards for each group. Below are one-side cards for
Level 1's first group
, including 9 non-English explanations.
Print Cards from Word List
.
4 Manage Word Status:
To speed up your studying, you can manage words by marking them as New, Known, and Review status. There are two ways: Note page or Panel page to manage words' statuses. You can also save statuses to the cloud and sync back if your device has trouble or want to switch to other devices.
Word status works for all vocabularies on the website, including 5000 GRE Words. It is a handy flag to skip known words and focus on new and half-familiar words.
By Note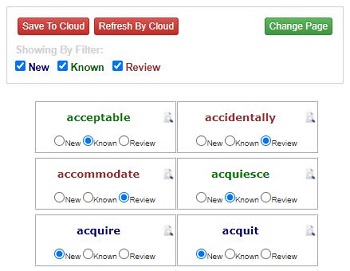 By Panel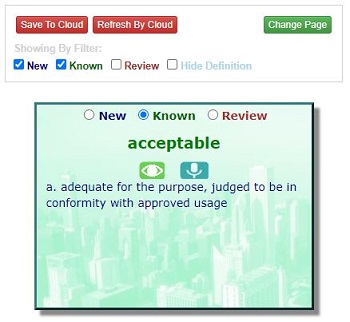 5 View all words by groups:
Go to Word List by Group:
Select Vocabulary Group:
Words of Group
1
:
(Part of words, select list to view all.)
abandon
abide
abnormal
absurd
abuse
access
accidental
accomplice
acquaintance
activate
acute
adamant
addiction
ado
adopt
adorable
adore
affected
affection
affirmative
agenda
aggressive
agitated
agony
agreement
airborne
alias
allegiance
allergic
allergy
alley
ally
altar
ambrosia
ambush
amendment
...
6 Demonstrate word list style:
badge

n. a distinctive mark, token, or sign worn on the person
He was awarded a merit badge for his bravery in the battle.
Show examples and contexts

bald

a. hairless; lacking a natural or usual covering
Although he carried, under his wig, a perfectly bald and shiny head, he had only reached middle age.
Show examples and contexts

bane

n. something causes misery or death; curse; fatal injury or ruin
Lucy's little brother was the bane of her existence: his attempts to make her life miserable worked so well that she could have poisoned him.
Show examples and contexts

banner

n. flag; sign; a newspaper headline that runs across the full page
The red top refers to the color of the banner at the top of the paper.
Show examples and contexts

barbecue

n. a rack to hold meat for cooking over hot charcoal usually out of doors
The authorities believe it could have been started by a barbecue that had not been put out properly and have announced that they will be questioning suspects in the morning.
Show examples and contexts

bark

n. a sound made by a dog; harsh sound uttered by a dog
She set off at once and ran till she was quite tired and out of breath and till the puppy's bark sounded quite faint in the distance.
Show examples and contexts

7 Word meaning matching - Test words you know:
| | |
| --- | --- |
| | a. belonging or relating to the body; bodily; noncommissioned officer, next below a sergeant |
| | a. unexpected; happening by chance, unintentionally   |
| | n. pledge, undertaking; an act of binding yourself  to a course of action |
| | n. young animal; awkward, rude, ill-mannered boy; a stall for cattle |
| | |
| --- | --- |
| | a. quickly perceptive; keen; having a sharp point or tip; extremely sharp or severe |
| | n. a distinctive mark, token, or sign worn on the person |
| | a. belonging or relating to the body; bodily; noncommissioned officer, next below a sergeant |
| | n. obstacle; structure built to bar passage; boundary or limit |
| | |
| --- | --- |
| | ad. against the affirmative side; in opposition; on the negative side |
| | a. belonging or relating to the body; bodily; noncommissioned officer, next below a sergeant |
| | v. accept; take on; raise; take into one's family |
| | a. having hidden meaning; mystifying; using code or cipher |
| | |
| --- | --- |
| | n. keeping or guarding; care, watch, inspection, for keeping, preservation, or security |
| | n. extortion of money or value from a person by threat of exposing a criminal act or discreditable information |
| | a. confirmative; ratifying; giving assent or approval; confirming |
| | n. obstacle; structure built to bar passage; boundary or limit |
| | |
| --- | --- |
| | a. making assaults; unjustly attacking; combative; hostile; tending to spread quickly |
| | a. broadly sympathetic; universal; related to Roman Catholic Church |
| | n. vehement or urgent desire; longing for; consuming desire; yearning |
| | a. quickly perceptive; keen; having a sharp point or tip; extremely sharp or severe |
| | |
| --- | --- |
| | n. small fragment or piece,  especially a small piece of bread or other food; broken or cut off |
| | n. pledge, undertaking; an act of binding yourself  to a course of action |
| | n. a narrow passage, especially a walk or passage in a garden or park, bordered by rows of trees or bushes |
| | n. room or rooms under a building, and usually below the surface of the ground |
8 Interactive spelling - Check your spelling skill online:

[Esc] n. instinctive physical desire, especially one for food or drink


[Esc] n. public records; place where public records are kept


[Esc] n. large room used mainly for dancing


[Esc] v. make or pronounce holy; consecrate; make happy


[Esc] a. counterfeit or fake; not authentic; not genuine


[Esc] n. a contest between antagonists; contest or fight; a period of time spent in a particular way, as in illness