| | |
| --- | --- |
| 5000 GRE Vocabulary Words | |
1 Overview:
5000 GRE Vocabulary Words is a middle-level words list for test-takers to warm up known words and learn new words. In addition to normal definitions and explanations, the GRE voca also includes online practices, such as meaning matching and spelling. For those who prefer to enhance vocabulary offline or in an old-school way, it offers printable flashcards and PDF files.
If you want to have a better GRE score, you have to own a stronger vocabulary skill. It means that you will spend more time studying GRE words. Does this GRE voca meet your case? We divide the words into 4 levels; each level consists of 4 groups. Want to view them quickly? Watch them here.
2 Alternative GRE vocabularies:
We know one words list cannot cover all GRE test requirements. If you think the 5000 GRE Words doesn't match your circumstance, please try other lists on the website.
However, if you are serious about preparing for GRE, any smaller or easier lists shouldn't be an option unless you use them as a supplement. Here we recommend 2 large vocabularies, which are also useful for enhancing reading and writing words, especially for high score hunters.
3 Words' EBook, PDF, and Cards:
GRE Vocabulary EBook
We have published ebook that exactly matches the 5000 GRE Words. Students can buy from main ebook distributors.
GRE Vocabulary PDF List
Some students like using PDF lists to learn and review words. We do offer a handy feature to make GRE PDF word lists for each group. Below are demos of
Level 1's first group
, including files with 9 non-English explanations.
GRE Vocabulary Cards
Cards are useful tools for some students to study new words. We offer two buttons to make GRE one-side and two-side flashcards for each group. Below are one-side cards for
Level 1's first group
, including 9 non-English explanations.
Print Cards from Word List
.
4 Manage Word Status:
To speed up your studying, you can manage words by marking them as New, Known, and Review status. There are two ways: Note page or Panel page to manage words' statuses. You can also save statuses to the cloud and sync back if your device has trouble or want to switch to other devices.
Word status works for all vocabularies on the website, including 5000 GRE Words. It is a handy flag to skip known words and focus on new and half-familiar words.
By Note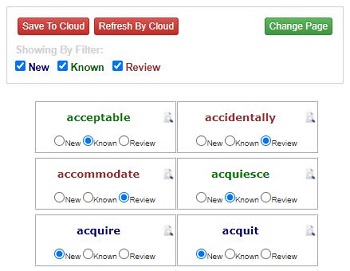 By Panel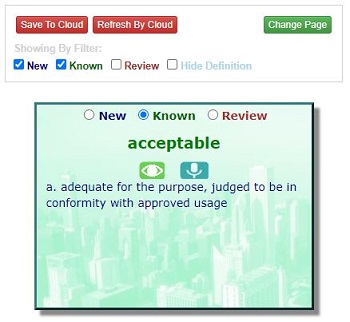 5 View all words by groups:
Go to Word List by Group:
Select Vocabulary Group:
Words of Group
1
:
(Part of words, select list to view all.)
abandon
abide
abnormal
absurd
abuse
access
accidental
accomplice
acquaintance
activate
acute
adamant
addiction
ado
adopt
adorable
adore
affected
affection
affirmative
agenda
aggressive
agitated
agony
agreement
airborne
alias
allegiance
allergic
allergy
alley
ally
altar
ambrosia
ambush
amendment
...
6 Demonstrate word list style:
altar

n. raised structure on which sacrifices are offered or incense burned to a deity
In answer to my inquiries, she informed me it was a covering for the altar of a new church lately erected.
Show examples and contexts

ambush

n. disposition or arrangement of troops for attacking an enemy unexpectedly from a concealed station
They separated into three hostile tribes, and darted upon each other from ambush with dreadful war-whoops, and killed each other by thousands.
Show examples and contexts

amnesia

n. partial or total loss of memory, usually resulting from shock or illness
Selective amnesia is a politically valuable trait.
Show examples and contexts

anemia

n. condition in which blood lacks red corpuscles; deficiency of red blood cells; lack of vitality
Long-standing illnesses often result in anemia, loss of weight, and occasional bleeding from the stomach.
Show examples and contexts

anonymous

a. having no name; having an unknown or unacknowledged name
The buyer, who wished to remain anonymous, is a foreigner with homes in Europe.
Show examples and contexts

antidote

n. medicine to counteract a poison or disease; an agent that relieves or counteracts
They believe that because this anti-heroin antidote is what finally worked with some of the victims.
Show examples and contexts

7 Word meaning matching - Test words you know:
| | |
| --- | --- |
| | n. promise or pledge; certainty; self-confidence; freedom from doubt |
| | n. act of sending off something; the property of being prompt and efficient; message usually sent in haste |
| | n. acknowledgment expressing regret or asking pardon for a fault or offense; explanation or excuse |
| | a. excessively sensitive; susceptible; having an allergy |
| | |
| --- | --- |
| | n. a polygenic disease characterized by abnormally high glucose levels in the blood |
| | n. young animal; awkward, rude, ill-mannered boy; a stall for cattle |
| | v. raise; advance; push or shove upward |
| | n. acknowledgment expressing regret or asking pardon for a fault or offense; explanation or excuse |
| | |
| --- | --- |
| | n. a thick mass or piece, amount |
| | n. promise or pledge; certainty; self-confidence; freedom from doubt |
| | n. lure or bait; means used to mislead or lead into danger |
| | n. an area of flat land where a river spreads out into several smaller rivers before entering the sea |
| | |
| --- | --- |
| | n. clients of professional person; the body of customers or patrons |
| | n. the extreme pain of mind or body; anguish; last struggle of life; death struggle |
| | n. flatboat; long, large boat for transporting freight that is unpowered and towed or pushed by other craft |
| | v. make or pronounce holy; consecrate; make happy |
| | |
| --- | --- |
| | v. drill; make a hole in or through, with or as if with a drill |
| | n. group; class; a collection of things sharing a common attribute |
| | n. device for increasing power or effectiveness; enthusiastic promoter, as of a sports team or school |
| | a. of the universe; vast |
| | |
| --- | --- |
| | v. drill; make a hole in or through, with or as if with a drill |
| | n. person or animal that is partially disabled or unable to use a limb or limb |
| | n. act of sending off something; the property of being prompt and efficient; message usually sent in haste |
| | n. young animal; awkward, rude, ill-mannered boy; a stall for cattle |
8 Interactive spelling - Check your spelling skill online:

[Esc] n. a rack to hold meat for cooking over hot charcoal usually out of doors


[Esc] n. an outlying farm building for storing grain or animal feed and housing farm animals


[Esc] n. signal fire to notify of the approach of an enemy, or to give any notice, commonly of warning


[Esc] n. liquids for drinking, usually excluding water; refreshment


[Esc] v. raise; advance; push or shove upward


[Esc] v. toss or throw smartly out of hand; make noise or call, as a hen calls her chickens