| | |
| --- | --- |
| 5000 GRE Vocabulary Words | |
1 Overview:
5000 GRE Vocabulary Words is a middle-level words list for test-takers to warm up known words and learn new words. In addition to normal definitions and explanations, the GRE voca also includes online practices, such as meaning matching and spelling. For those who prefer to enhance vocabulary offline or in an old-school way, it offers printable flashcards and PDF files.
If you want to have a better GRE score, you have to own a stronger vocabulary skill. It means that you will spend more time studying GRE words. Does this GRE voca meet your case? We divide the words into 4 levels; each level consists of 4 groups. Want to view them quickly? Watch them here.
2 Alternative GRE vocabularies:
We know one words list cannot cover all GRE test requirements. If you think the 5000 GRE Words doesn't match your circumstance, please try other lists on the website.
However, if you are serious about preparing for GRE, any smaller or easier lists shouldn't be an option unless you use them as a supplement. Here we recommend 2 large vocabularies, which are also useful for enhancing reading and writing words, especially for high score hunters.
3 Words' EBook, PDF, and Cards:
GRE Vocabulary EBook
We have published ebook that exactly matches the 5000 GRE Words. Students can buy from main ebook distributors.
GRE Vocabulary PDF List
Some students like using PDF lists to learn and review words. We do offer a handy feature to make GRE PDF word lists for each group. Below are demos of
Level 1's first group
, including files with 9 non-English explanations.
GRE Vocabulary Cards
Cards are useful tools for some students to study new words. We offer two buttons to make GRE one-side and two-side flashcards for each group. Below are one-side cards for
Level 1's first group
, including 9 non-English explanations.
Print Cards from Word List
.
4 Manage Word Status:
To speed up your studying, you can manage words by marking them as New, Known, and Review status. There are two ways: Note page or Panel page to manage words' statuses. You can also save statuses to the cloud and sync back if your device has trouble or want to switch to other devices.
Word status works for all vocabularies on the website, including 5000 GRE Words. It is a handy flag to skip known words and focus on new and half-familiar words.
By Note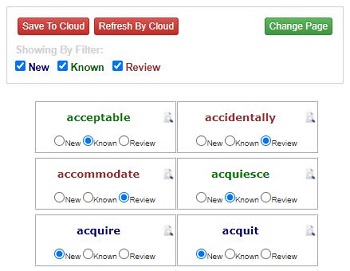 By Panel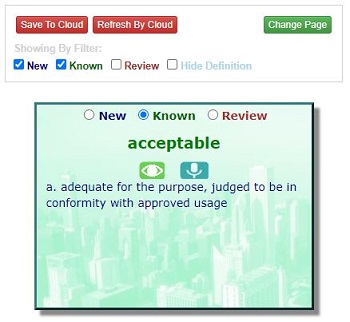 5 View all words by groups:
Go to Word List by Group:
Select Vocabulary Group:
Words of Group
1
:
(Part of words, select list to view all.)
abandon
abide
abnormal
absurd
abuse
access
accidental
accomplice
acquaintance
activate
acute
adamant
addiction
ado
adopt
adorable
adore
affected
affection
affirmative
agenda
aggressive
agitated
agony
agreement
airborne
alias
allegiance
allergic
allergy
alley
ally
altar
ambrosia
ambush
amendment
...
6 Demonstrate word list style:
contempt

n. state of being despised or dishonored; disgrace; disobedience to, or open disrespect of
The poor fools, who hold science in contempt, have no ability to realize that science proves them wrong at every turn.
Show examples and contexts

contingency

n. condition of being dependent on chance; uncertainty; possibility
Once relative health and relative safety were sufficient, we demanded absolute health and utter safety against the remotest contingency.
Show examples and contexts

convert

n. change something into another form; transform
However, he suggests that this only be done if the convert is also willingly accepted into his position by the community.
Show examples and contexts

convict

v. find or declare guilty
If the jury decided to convict him of manslaughter, he could face up to 20 years in prison.
Show examples and contexts

coop

n. barrel or cask for liquor; enclosure or cage, as for poultry or small animals
I would say they are very valid from a quality price point of view, you see them in coop supermarkets priced at 5-6 Euros.
Show examples and contexts

corporal

a. belonging or relating to the body; bodily; noncommissioned officer, next below a sergeant
A teacher should not give students corporal punishment.
Show examples and contexts

7 Word meaning matching - Test words you know:
| | |
| --- | --- |
| | a. disturbed; excited; expressing agitation |
| | a. unusual; not typical; not normal |
| | n. the extreme pain of mind or body; anguish; last struggle of life; death struggle |
| | v. make active or more active; stimulate; make radioactive |
| | |
| --- | --- |
| | v. worship with profound reverence; pay divine honors to; regard with the utmost esteem and affection |
| | v. be unfaithful; reveal unconsciously or unwillingly |
| | n. activity or gift that benefits the public at large |
| | n. loyalty to a nation, sovereign, or cause; fidelity to any person or thing; devotion |
| | |
| --- | --- |
| | n. the extreme pain of mind or body; anguish; last struggle of life; death struggle |
| | v. worship with profound reverence; pay divine honors to; regard with the utmost esteem and affection |
| | n. praise; commendation; say something to someone that expresses praise |
| | n. festivity; traveling amusement show usually including rides, games, and sideshows |
| | |
| --- | --- |
| | n. a contest between antagonists; contest or fight; a period of time spent in a particular way, as in illness |
| | n. loyalty to a nation, sovereign, or cause; fidelity to any person or thing; devotion |
| | v. be unfaithful; reveal unconsciously or unwillingly |
| | v. take part in a trial performance; evaluate in a trial performance |
| | |
| --- | --- |
| | n. the flat part of the leaf, of any plant, especially of gramineous plants; cutting part of an instrument |
| | n. shaking or agitation; shock; injury to an organ, especially the brain, produced by a violent blow |
| | a. broadly sympathetic; universal; related to Roman Catholic Church |
| | v. take part in a trial performance; evaluate in a trial performance |
8 Interactive spelling - Check your spelling skill online:

[Esc] n. the extreme pain of mind or body; anguish; last struggle of life; death struggle


[Esc] a. aloft; flying; in the air


[Esc] n. disposition or arrangement of troops for attacking an enemy unexpectedly from a concealed station


[Esc] n. overbearing pride; haughtiness; manifest feeling of personal superiority in rank, power, or estimation


[Esc] n. mixed emotion of reverence, respect, dread, and wonder; fear, as of something evil


[Esc] v. raise; advance; push or shove upward