1 Overview:
5000 GRE Words is a middle-level words list for test-takers to warm up known words and learn new words. In addition to normal definitions and explanations, the list also includes online practices, such as meaning matching and spelling. For those who prefer to enhance vocabulary offline or in an old-school way, the vocabulary offers printable flashcards and PDF files.
If you want to have a better GRE score, you have to own a stronger vocabulary skill. It means that you will spend more time studying GRE words. Does this GRE List meet your case? We divide the words into 4 levels; each level consists of 4 groups. Want to view them quickly? Watch them here.
2 Alternative GRE vocabularies:
We know one words list cannot cover all GRE test requirements. If you think the 5000 GRE Words doesn't match your circumstance, please try other lists on the website.
However, if you are serious about preparing for GRE, any smaller or easier lists shouldn't be an option unless you use them as a supplement. Here we recommend 2 large vocabularies, which are also useful for enhancing reading and writing words, especially for high score hunters.
3 Words' EBook, PDF, and Cards:
GRE Vocabulary EBook
We have published ebook that exactly matches the 5000 GRE Words. Students can buy from main ebook distributors.
GRE Vocabulary PDF List
Some students like using PDF lists to learn and review words. We do offer a handy feature to make GRE PDF word lists for each group. Below are demos of
Level 1's first group
, including files with 9 non-English explanations.
GRE Vocabulary Cards
Cards are useful tools for some students to study new words. We offer two buttons to make GRE one-side and two-side flashcards for each group. Below are one-side cards for
Level 1's first group
, including 9 non-English explanations.
Print Cards from Word List
.
4 Manage Word Status:
To speed up your studying, you can manage words by marking them as New, Known, and Review status. There are two ways: Note page or Panel page to manage words' statuses. You can also save statuses to the cloud and sync back if your device has trouble or want to switch to other devices.
Word status works for all vocabularies on the website, including 5000 GRE Words. It is a handy flag to skip known words and focus on new and half-familiar words.
By Note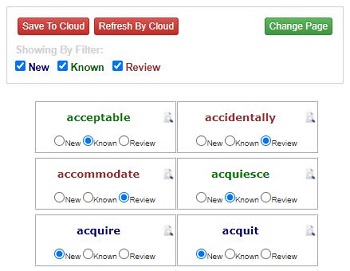 By Panel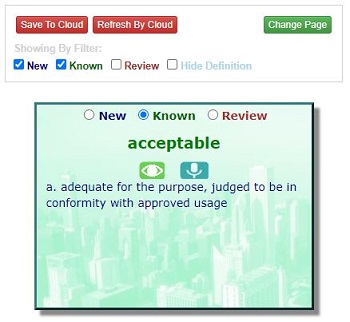 5 View all words by groups:
Go to Word List by Group:
Select Vocabulary Group:
Words of Group
1
:
(Part of words, select list to view all.)
abandon
abide
abnormal
absurd
abuse
access
accidental
accomplice
acquaintance
activate
acute
adamant
addiction
ado
adopt
adorable
adore
affected
affection
affirmative
agenda
aggressive
agitated
agony
agreement
airborne
alias
allegiance
allergic
allergy
alley
ally
altar
ambrosia
ambush
amendment
...
6 Demonstrate word list style:
acute

a. quickly perceptive; keen; having a sharp point or tip; extremely sharp or severe
Her early writing was grounded in acute observation of the natural world.
Show examples and contexts

addiction

n. the compulsive physiological and psychological need for a substance; being abnormally dependent on something
No matter what form we find it in, addiction is not fun; drugs, alcohol, overeating, overworking, smoking or sex.
Show examples and contexts

adopt

v. accept; take on; raise; take into one's family
In a late-night session, the United States, which has blocked most recent efforts to adopt resolutions on the Middle East, put forward its own proposal.
Show examples and contexts

adore

v. worship with profound reverence; pay divine honors to; regard with the utmost esteem and affection
All the girls in our school adore the handsome mathematics teacher who happens to be a bachelor.
Show examples and contexts

affection

n. fondness; tender feeling toward another; fondness
I happen to think that the physical expression of love and affection is just about the best thing we humans do.
Show examples and contexts

agenda

n. items of business at a meeting; list or program of things to be done or considered
His agenda is certainly different from the President's and the administration's, but we will seek additional opportunities to work together with him.
Show examples and contexts

7 Word meaning matching - Test words you know:
| | |
| --- | --- |
| | n. partner in crime; associate in wrongdoing |
| | n. some stars seen from the Earth as a group and often having a name |
| | v. relieve of a burden or of contents; unload; pour forth or release; complete or carry out; give off |
| | v. blame; denounce; express strong disapproval of |
| | |
| --- | --- |
| | v. blame; denounce; express strong disapproval of |
| | n. sleeping place partitioned off from a large dormitory; small compartment, as for work or study |
| | v. accept; take on; raise; take into one's family |
| | n. confederate; partner; collaborator |
| | |
| --- | --- |
| | n. overbearing pride; haughtiness; manifest feeling of personal superiority in rank, power, or estimation |
| | n. some stars seen from the Earth as a group and often having a name |
| | n. small fragment or piece,  especially a small piece of bread or other food; broken or cut off |
| | n. a narrow passage, especially a walk or passage in a garden or park, bordered by rows of trees or bushes |
| | |
| --- | --- |
| | v. ask with earnestness or importunity; ask with submission or humility; beg |
| | n. a violent attack; an onslaught |
| | n. overbearing pride; haughtiness; manifest feeling of personal superiority in rank, power, or estimation |
| | n. a narrow passage, especially a walk or passage in a garden or park, bordered by rows of trees or bushes |
| | |
| --- | --- |
| | n. a narrow passage, especially a walk or passage in a garden or park, bordered by rows of trees or bushes |
| | n. large weapons, such as cannon and missile launchers operated by crews; army branch in use of large weapons |
| | ad. against the affirmative side; in opposition; on the negative side |
| | n. partner in crime; associate in wrongdoing |
| | |
| --- | --- |
| | n. breaking of contract or duty; breaking of waves or surf; fissure or gap |
| | a. hairless; lacking a natural or usual covering |
| | n. guard to protect or defend person; lifeguard |
| | n. lawyer; one who is appointed by another to act in his place or stead; proxy |
8 Interactive spelling - Check your spelling skill online:

[Esc] n. lacking restraint or control; feeling of extreme emotional intensity; unbounded enthusiasm


[Esc] a. unusual; not typical; not normal


[Esc] n. bowman, one skilled in the use of the bow and arrow


[Esc] n. back and sides of a pig salted and smoked


[Esc] n. extortion of money or value from a person by threat of exposing a criminal act or discreditable information


[Esc] n. quality of being brutal; inhumanity; savageness; pitilessness