1. Download Existing GRE Vocabulary PDF
All GRE sections, including Math, need strong vocabulary to get a good score; some GRE test takers have to spend lots of time to deal with the tough task. PDF is a common format and popular in some situations to list GRE vocabulary. So you may be looking for right GRE vocabulary now.
Possibly you just want to print the words in PDF or your device only supports PDF document. No matter what reason is, what you do is to find some candidates lists through Google search, and then download one that looks matched with your case.
If you just start GRE vocabulary building, a relatively small vocabulary PDF is a good choice. After a few days' work, you possibly can make a better decision: go ahead or replace with a harder PDF. Even if the current vocabulary is completely useless, you waste a few days only.
For starters we recommend a small GRE word list PDF: GRE 1200 Words in 30 Days. It contains fundamental words for most of GRE test takers. This GRE vocabulary PDF is free to download.

Below are other available GRE PDF files based on GRE vocabularies of the website. (Files of full groups need VIP account to download.)
GRE Big Book Words List
Barrons GRE Vocabulary
Besides PDF, you can buy GRE vocabulary Ebooks in various formats from popular Ebook stores. For example,
2. Customize GRE Vocabulary PDF
GRE vocabulary building is actually a very personalized task; different people start from different bases to different goals so that they need separate vocabularies. If a vocabulary is too easy, lots of known words would waste your time; reversely, you possibly miss some higher frequency but more primary words.
Create own GRE vocabulary PDF is an efficient way to enrich vocabulary skill if you frustrate to download unsatisfied PDF repeatedly.It sounds complicated but definitely feasible. Here we introduce a solution based on Google Drive to customize and download GRE vocabulary PDF file, which should 100% meet with your requirement.
Your PDF just contains words you want to learn or review; Their definitions, examples, and even explanations of mother language are controlled by yourself. This sort of customized PDF will definitely maximize your effort in GRE vocabulary studying.
The core steps to Customize own GRE vocabulary PDF are as following:
2.1 Select GRE vocabulary source We offers 7 GRE vocabularies as content source of new PDF at the website. You may concern if there is any copyright issue before using these vocabularies. The primary principle is that if you don't share copied content in any format with others, copying contents for own PDF file is permitted from this website.
You can create own PDF files based on other sources' vocabularies with same method, only if the source doesn't bring up copyright issue.
2.2 Copy words from GRE vocabulary source We take Barrons GRE Vocabulary of the website as example to show how to copy contents from vocabulary source. Barrons GRE Vocabulary is a 4000+ words list with multiple language definitions. It has been divided into 20 groups.
The first 3 groups' web pages with Chinese definitions shown as following:
We will enter the web page of first group to copy words and definitions, then demonstrate how to make and download a GRE vocabulary PDF file.
2.3 Edit and Make PDF by Google Drive After you select a word list that closes to your circumstance as possible, you can copy word, definition, and whatever you like to an editor. Then, you can edit existing content or delete useless stuff. The final step is to convert your content to PDF.
Google Drive is a great free tool for both editing document and making PDF file. Follow the video, you can create own GRE vocabulary PDF in minutes.
For example, we can copy/paste words from first group (Barrons GRE Vocabulary - Chinese 1) to Google Drive as a Google Docs.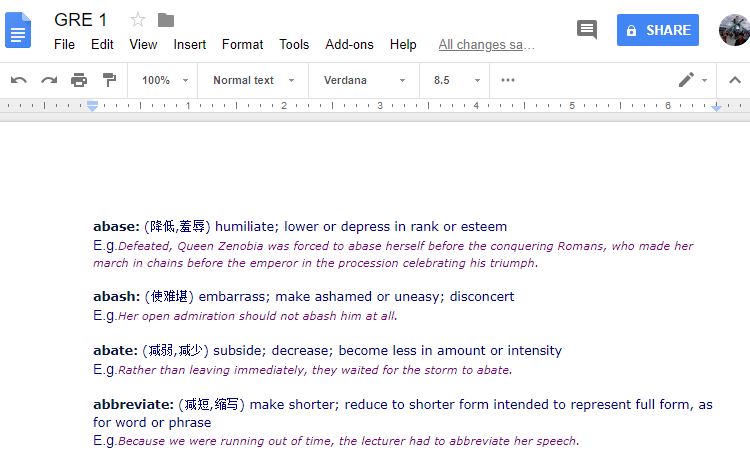 Then we can download this words list as PDF format from File menu of Google Drive.
If you dislike Google Drive, or you don't have it, there are a number of free tools to do conversions: from MS Word to PDF, from txt to PDF, or from other format to PDF. We list some free online resources here, such as:
2.4 Download Free GRE Vocabulary PDF By steps of section 2.3, we got a personalized GRE vocabulary PDF. Although spending some effort, we successfully produced own GRE vocabulary PDF; by similar way we can revise contents and create new PDF easily and quickly.
We uploaded the demo PDF file, which was downloaded from Google Drive as section 2.3, to this website, it was by Barrons GRE Vocabulary (group 1 with Chinese definition). You can
Download GRE PDF
to preview.