The 500 IELTS vocabulary is so-called AWL (Academic Word List), which was rooted from a popular webpage of HONG KONG Univ. We re-organized it with new definitions and examples. As we know, students should learn at least 5000 IELTS vocabulary before taking academic test. These 500 words cannot replace hardworking of 5000 or more IELTS vocabulary, but is the first step to open the door of building vocabulary efficiently.
Firstly, it is a high frequent word list in IELTS test papers.Two types of students may be interested in the vocabulary.The first is to just start to build vocabulary.They want to get the big picture of IELTS academic vocabulary quickly.The second is in a very narrow time frame to prepare their tests, this list contains the most common words and is a proven short-cut to pass IELTS test.
English is foreign language for most of IELTS test takers.Leverage mother language's knowledge to learn new English words is a normal way for them. This IELTS vocabulary encloses definitions of 20 languages that cover most population of the world. It's a big save for ESL (English as Second Language) students.
In addition to original Chinese explanation of HONG KONG Univ, more local language explanations are appended to help ESL test takers.Open the register form page; you will see there are 20 languages available. Select your mother language; then, IELTS vocabulary will show explanations with English and your mother language together.
Each word in this IELTS academic vocabulary is demonstrated with example sentence, which plays a key part to understand and use new word in right way. Memorize words alone are usually boring, and even if you get them you won't be very confident to use them.However, if connect a word with an example sentence, the situation will be changed, these words and sentences will enhance your both reading and writing skill.
At last, please notice this AWL is from Hong Kong. It means these words are targeted to IELTS academic test and are for students who live in English speaking areas.Lots of fundamental words are filtered because they are assumed to be known in daily activities.So this IELTS vocabulary may not be an ideal choice for test takers who are in non-English countries.
This IELTS vocabulary is too short to hunt top score. Obviously, high level students need a more powerful vocabulary to work.
IELTS Academic Words List
, the largest IELTS vocabulary in the website, reflects the essential vocabulary level of IELTS academic test. It's a good option for serious test takers.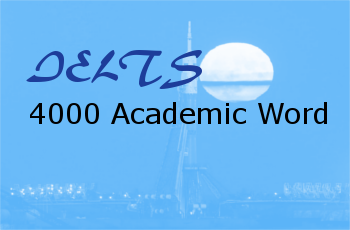 Besides, some students prefer to use ebook to study and review IELTS vocabulary, we have two to recommend:
IELTS 1200 Words in 30 Days
(basic level)
Available at:
Apple iBook
,
Google Books
,
Amazon Kindle
, and others...
4000 IELTS Words
(basic,middle, and high level)
Available at:
Amazon Kindle - US
or other ebook distributors.
IELTS vocabulary is the foundation to pass the test. Before your starting, you should clean all questions, such as how many words to learn, how long to spend, and by what way or tool to study. If you cannot set your goal or doubt your plan, google and research some online resources may help you out, e.g.:
IELTS Official Website
English Language Centre, Hong Kong Polytechnic University
administrate:

/əd'mɪnɪstreɪt/ v.
administer; supply; supervise or be in charge of
Remember that Democrats want to increase spending and create more laws which in turn create more government to administrate and enforce.
advocate:

/'ædvəkət/ v. Syn. urge; support
speak, plead, or argue in favour of; plead for; push for something
The some doctors advocate a smoking ban in the entire house.
aggregate:

/'ægrɪgət/ v. Syn. gather; accumulate
gather into a mass, sum, or whole; amount to
Before the Wall Street scandals, dealers managed to aggregate great wealth in short periods of time.
albeit:

/ɔ:l'bi:ɪt/ ad.
even though; although; notwithstanding
This question bothers me, albeit from a different perspective.
alter:

/'ɔ:ltə(r)/ v. Syn. modify; change; convert
modify; cause to change; make different; convert
In public neither Mr. Blair's visit nor the regional summit in Nepal has done anything to alter India's position on dialogue with Pakistan.
ambiguous:

/æm'bɪgjʊəs/ a.
unclear or doubtful in meaning
His ambiguous instructions misled us; we did not know which road to take.