2 Alternative Solutions:
If you doubt whether this 4000 IELTS Academic Vocabulary is the right option, this section gives you some alternative methods and vocabularies.
Alternative Methods
Study a word list isn't a unique way to enrich IELTS vocabulary, and this 4000 vocabulary isn't the only list either. If you have half or one year to prepare, there are some other options to accumulate IELTS vocabulary.
20 Ways to Build IELTS Vocabulary
introduces some proven ways.
You may learn new words in TV, news, ads, and daily readings that IELTS exam materials likely come from. Every word has own frequency in specified circumstance. IELTS test has own convention to select materials too, for example, recently some academic reading objects are originated from
Economist
or
BBC
.
Alternative Vocabularies - Writing and Speaking
However, if your time frame is very tight, or this 4000 vocabulary is relatively tough, you have to get a more flexible and practical substitute to work. Pick up a dictionary by random to prepare IELTS test isn't a good idea. Your effort and reward both depend on the current level.
For those who want to sharpen IELTS writing vocabulary, this 4000 words list seems large. Instead,
IELTS Writing Task Vocabulary
collects words and phrases for task 1 and task 2: describing graph and table, linking sentences, and a short but hard writing vocabulary.
If speaking test is your shortage, enhance speaking vocabulary from
100 IELTS Speaking Words
will strengthen your confidence to face examiners.
Alternative Vocabularies - Smaller Word Lists
Students with separate levels or situations may choose differently. Some like a shortlist because time matters; others prefer to learn difficult and large vocabulary in order to pursuit a high score. We do know this 4000 IELTS vocabulary cannot cover all test takers' cases, for those who are looking for lighter or smaller lists,
10 Popular IELTS Vocabularies
may give some clues.
Two of them possibly you are interested. If you are studying for IELTS general training test,
4000 IELTS General Words List
is a better choice.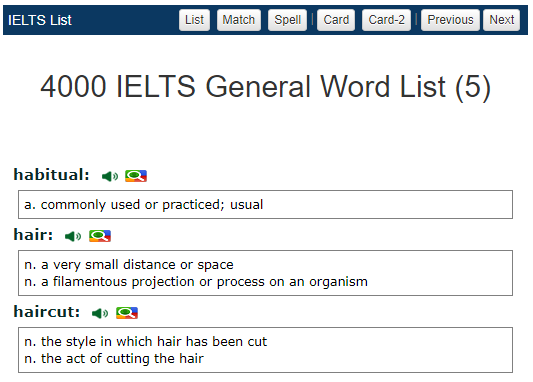 If your schedule is very tight, or you just need a passed score, suggest to view
500 IELTS Vocabulary
, a short but proven academic vocabulary for students who are in English countries.