Vocabulary is the core of English study. To master difficult words, you need to know definitions and meanings, as well as sentences and examples. The list of 200 hard words with meanings and sentences offers excellent contexts for each word to enrich your vocabulary skill. Especially for either SAT or ACT test-takers, these hard words and sentences are great resource to enhance college admission test skill.
Vocabulary capability plays a vital role in all English language tests. No matter what sort of questions, either reading or writing, high score relies on strong vocabulary skill. It may not ensure a good score, but the reverse is true: a weak vocabulary will lead to a bad result. So don't miss this difficult word list.
Students have various ways to study difficult words. One method is to learn new words from sentences and contexts. When you study or review difficult words, good example sentences help very much. These sentences not only let you understand new words precisely, but also push you to use new words confidently.
Here we list 200 difficult words with meanings and sentences. Most of the sentences are from media or the Internet. The real and alive English sentences give you actual context meanings, which help to memorize difficult words by context and to trigger inspiration to use them in writing.
The high light of this small difficult word list is its sentences, which are excellent examples to demonstrate word's meaning. As long as you bind words with their context sentences, both words and sentences can improve your performance in all aspects of English; especially these sentences should be a handy resource in writing.
Learn difficult vocabulary by both definition and example sentence may cost more time; however, it sharpens your reading and writing, kills two birds with one stone.
A list of 200 words is relatively small. It's far away from any test demand. None can rely on such a shortlist only to pass SAT, ACT, or similar test. Tutors and students usually use it to evaluate vocabulary level quickly. Some also use it as a supplement material in short training.
As we said, this short difficult word list isn't enough to deal with future test. If you are looking for a full size SAT vocabulary,
3000 Common SAT Vocabulary List
, the relatively large SAT vocabulary in the website, is an essential level vocabulary for general SAT test-takers.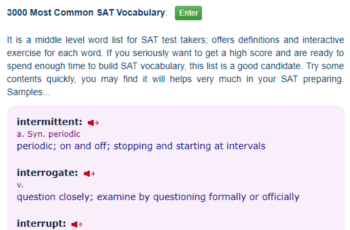 If you are interested in difficult SAT or ACT vocabulary,
SAT ACT Vocabulary Flashcards
provides a flexible way to review meaning, sentence, and even example use case in classic literature.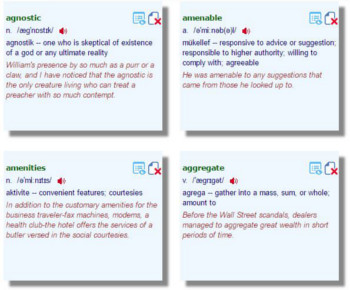 For those who prefer to read ebooks, we have two vocabulary ebooks to recommend:
SAT 1200 Words in 30 Days
(basic level)
Available at:
Apple iBook
,
Google Books
, and
Amazon Kindle
.
SAT 4000 Words
(basic, middle, and high level)
Available at:
Amazon Kindle
.
Below are quick links to
Amazon Kindle
's SAT, ACT, and GRE vocabulary Ebook.
There are various reasons to accumulate and challenge difficult words. Some people are to prepare college admission examines like SAT and ACT. Vocabulary indeed impacts all sections of these tests. Before kick-off your preparing, you should have a smart plan to build strong vocabulary. Some online resources can help you make the right decision, like
SAT Official Website
,
ACT Official Website
.
magnanimous:

/mæg'nænɪməs/ a. Syn. generous; noble
generous; high-minded; chivalrous
The last area where Obama should be magnanimous is on Defense policy.
Show more sentences

malevolent:

/mə'lɛvələnt/ a. Syn. malicious
having or exhibiting ill will; wishing harm to others; malicious
Lago is a malevolent villain who takes pleasure in ruining Othello.
Show more sentences

maudlin:

/'mɔ:dlɪn/ a. Syn. sentimental
tearfully sentimental; over-emotional; sickly-sentimental
One moment he was in maudlin tears and the next he was cracking some miserable joke about the disaster.
Show more sentences

mendacious:

/mɛn'deɪʃəs/ a. Syn. lying
lying; habitually dishonest; speaking falsely
Distrusting Huck from the start, Miss Watson assumed he was mendacious and refused to believe a word he said.
modicum:

/'mɒdɪkəm/ n.
limited quantity; small or moderate amount; any small thing
Although his story is based on a modicum of truth, most of the events he describes are fictitious.
Show more sentences

myriad:

/'mɪrɪəd/ a. Syn. innumerable; many; countless; numberless
of very large or indefinite number; of ten thousand
In China, for example, where a number of different dialects are spoken, the same character can be pronounced in myriad ways.
Show more sentences