Like all English language tests, SAT will check the vocabulary capability of test takers. No matter what questions on test papers, either reading or writing high score relies on strong SAT vocabulary. It may not ensure a good score but the reverse is true: a weak vocabulary will lead a bad SAT result. So building SAT vocabulary is the most important job to prepare this test.
Students have various ways to study SAT words. One method is to learn new words from samples and contexts. When you study or review words, especially difficult words, good examples help very much. These sentences not only let you understand new words precisely, but also push you to use new words confidently.
Here we list 200 difficult SAT words and their example sentences. Many of the sentences are selected from media or Internet. The real and alive English sentences give you actual context samples, which help to memorize hard SAT words by context and trigger inspiration to use them in SAT writing test.
The key point of this small SAT word list is its sentences, which are excellent examples of how to use these words. As long as you bind words with sentences, Both words and sentences can improve your performance in all SAT test sections, especially they are very useful resource to enhance words for writing test. Learn hard word with sentence may costs more time, but your reading and writing are both enhanced, it's sort of to kill two birds with one stone.
A list of 200 words is a relatively small SAT vocabulary. It's far away from actual SAT vocabulary demand. None can take such a short list as only asset to pass SAT test. However, considering it's a short and difficult word list, it can be used to evaluate SAT vocabulary skill quickly. Some SAT test takers also use it as a supplement material in short training.
However, this short SAT word list isn't enough to deal with future test. If you are looking for a full size SAT vocabulary,
3000 Most Common SAT Vocabulary
, the relatively large SAT vocabulary in the website, is an essential level vocabulary for common SAT test takers.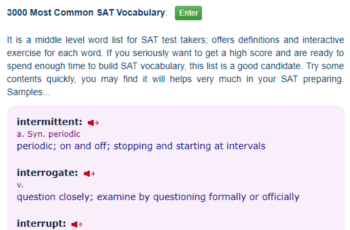 For those who used to read ebooks, we have two SAT vocabulary ebooks to recommend:
SAT 1200 Words in 30 Days
(basic level)
Available at:
Apple iBook
,
Google Books
,
Amazon Kindle
, and others...
SAT 4000 Words
(basic,middle, and high level)
Available at:
Apple iBook
,
Rakuten KoBo
, and others...
SAT vocabulary impacts all sections of the test. Before kick off your preparing, you should have a smart plan to build SAT vocabulary. Some online resources can help you make right decision; one of the most important websites is
SAT Official Website
.
[6 Words Quick View]
buffet:

/'bʊfeɪ/;/bə'feɪ/ n.
table with food set out for people to serve themselves; meal at which people help themselves to food that's been set out
Please convey them on the tray to the buffet.
burnish:

/'bɜrnɪʃ/ v. Syn. polish
make shiny by rubbing; polish
I burnish the brass fixtures until they reflect the lamplight.
buttress:

/'bʌtrɪs/ v. Syn. support
support physically; prop up; support something or someone by supplying evidence
The attorney came up with several far-fetched arguments in a vain attempt to buttress his weak case.
calumny:

/'kæləmnɪ/ n. Syn. slander
false statement maliciously made to injure another's reputation; slander
He could endure his financial failure, but he could not bear the calumny that his foes heaped upon him.
clemency:

/'klɛmənsɪ/ n.
mildness, as of the weather; merciful, kind, or lenient act
The lawyer was pleased when the case was sent to Judge Smith's chambers because Smith was noted for her clemency toward first offenders.
concomitant:

/kən'kɒmɪtənt/ a. Syn. accompanying
in conjunction with; accompanying; associated with
These two-sided attributes are known as concomitant characteristics.
......