1. Overview
SAT General Test is for high school students who plan to apply for colleges and universities of the USA. To get better scores, some students enhance their vocabulary skills as a part of the effort to prepare SAT exam because vocabulary level plays a key role in all SAT sections, either reading or writing.
The web app, SAT Vocabulary Test Online, makes SAT word question sheets for test-takers to build stronger vocabulary.
The app's primary function is to produce SAT vocabulary question sheets in dynamic and random, and provide SAT vocabulary test page to host questions and your answers online. The test questions are based on a middle level SAT words list that is updated every half of year. This list is a high frequency SAT words collection, and is proven to be very helpful for test-takers.
If you think the candidate words aren't fit to your scenario, you can try
Test Your Vocabulary Online
. It's a generic online English vocabulary test app with Basic, Middle, and High level SAT words.
2. Test Sheet Demo
It is a test sheet sample to get quick experience; however, you cannot submit answers here. By
Create test sheet
you can create a real SAT vocabulary test sheet to answer and submit. Besides, if you want to save your results for future reference, you need to own an account and login. Details are in Questions and Answers.
3. Result and Statistics
Through the app, you can challenge the built-in words list and familiarize yourself with them; every practice will improve your SAT vocabulary level. The app also offers some other fantastic merits; for example, you can save each test's result, and then analyze or compare with previous data, evaluate your progress. Such as: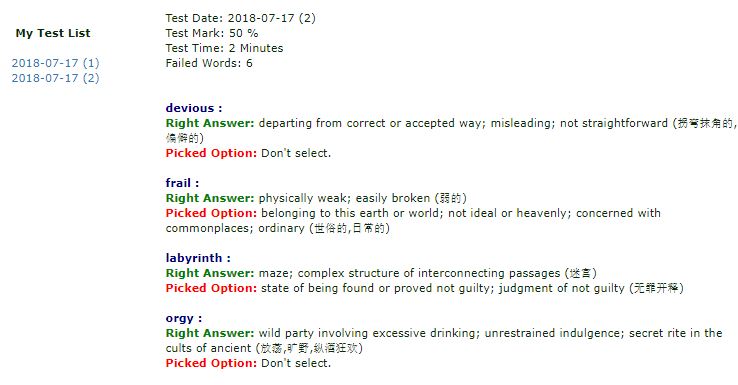 SAT vocabulary test result report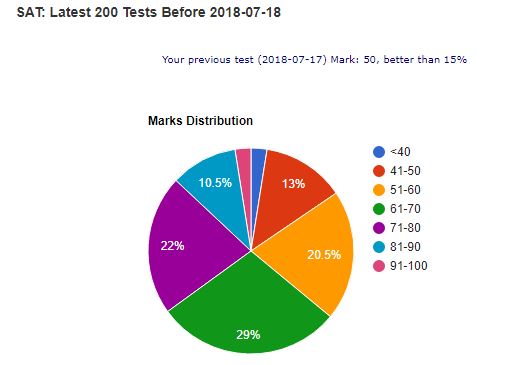 SAT vocabulary test mark distribution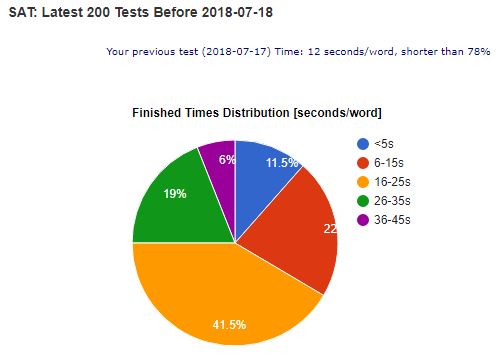 SAT vocabulary test mark distribution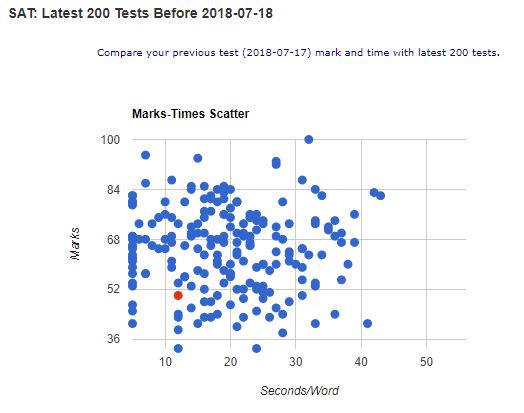 SAT vocabulary test mark and time
To enjoy all features, such as to save practice data, you have to sign on at first. Want to try more and learn more? Create an account, sign-on, and run this great free SAT vocabulary test app!
Questions and Answers