1. Don't Download Existing PDF
PDF is an amazing file format: easy to read and print at lots of devices. When building SAT vocabulary, some students used to print new words in paper in order to bring and note anywhere. This is why they are always trying to get or download a copy of SAT vocabulary in PDF format.
Download a SAT vocabulary PDF isn't difficult, but you hardly find out an existing PDF that exactly meets with your circumstance in whole the whole Internet. The simple reason is that there is no two students who share the same vocabulary base.
You know this word, I know that one. Known or new word is relied on individual vocabulary level. Besides, the expectations for SAT score are usually different among test takers: some just want a passed score, whereas others are trying to do their best to apply for top universities. It's such a diversity requirement.
So even if someone contributed a SAT words PDF file and is available to download, it probably isn't what you are looking for. It's even useless because of too easy or too hard. Why? If you download a too easy list and work based on it, you just waste time to repeat lots of known words. If you download a too difficult list to study, it means you probably miss some words that have higher frequency in future test papers.
2. Personalized SAT vocabulary PDF
To maximize the effort to build SAT vocabulary, a better way is to make and download own SAT vocabulary PDF file. This website provides multiple word lists to start:
Choose one vocabulary that matches with your requirement as much as possible;
Copy word list and its definitions whatever you need to an editor;
Delete known words or edit contents on demand;
Make PDF file with the edited content.
Some people inquire the copyright protection of copied contents. Don't worry about it, if your copying is just for your studying and don't share the copied content in any format (including in PDF). In general, if you don't share what you copy from this website with others, there is no copyright issue at all.
3. Steps to Make and Download PDF
The first and key step is to choose a SAT vocabulary as base of your PDF. You have multiple word lists as candidates, which are quite different in view of size and difficulty. You have to spend some hours to decide which is proper to you.
Here we take Top 500 SAT Words as example. For most SAT test takers this is an easy start point to build vocabulary. Of course, you can choose larger or harder word list to try. If you are ESL (English as Second Language) students, you may prefer to vocabularies that have definitions of mother language. We now use Top 500 SAT Words to show how to make and download personalized SAT vocabulary PDF file.
Top 500 SAT Words is shown as 2 groups. We can get their links.
Now we need PDF maker to do last job: make own SAT vocabulary PDF. Lots of free resources on internet may help to convert a text file or Word file to PDF file. For example, we choose one of below websites:
4. Download the Demo SAT Vocabulary PDF
We upload the PDF We just made, it was by Top 500 SAT Words (Group 1) and is without any editing. You can click
Download SAT PDF
to preview what we did.
5. Download a Starter's SAT Vocabulary PDF
We understand that some students just want to download a SAT vocabulary PDF to trigger their task quickly. If you don't plan to personalize own SAT vocabulary yet, we suggest to start with a small vocabulary. Even if it doesn't meet with you, the time and effort waste on it should be relatively low.
SAT 1200 Words in 30 Days is a good option in this case. You can download the below SAT PDF and have a view.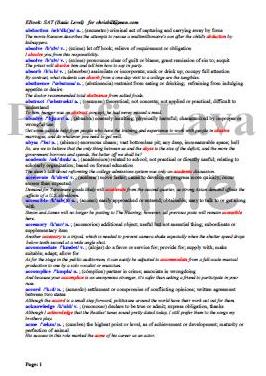 This SAT vocabulary PDF is free to download.
Below are other available PDF files.
3000 Common SAT Vocabulary List
You can also buy other ebook format from stores: