3000 Most Common SAT Vocabulary is a middle level word list for high school students who are going to write SAT test. This is a common vocabulary for common students to recall known words and learn new words. Usually the task would last three or more months. If you are aiming to top universities, like Harvard, this common SAT vocabulary hardly helps you.
SAT vocabulary is sort of controversial topic in high school education. SAT organizer claims the test wouldn't emphasise on size of student's vocabulary, but all we know that vocabulary skill the base of language skill. SAT doesn't test difficult words exclusively never hints SAT vocabulary isn't important any more. Of course, the content and size of SAT vocabulary are changing in recent years: easier to master by common students.
This vocabulary consists of 3000 words that high school, especially 12th grade, students who don't want to give up their SAT tests must have. In addition to traditional definitions and explanations, the vocabulary also includes interactive exercise, such as meaning matching, spelling. Besides, the vocabulary offers printable flash cards too. These tools are available for each word and can be launched through a few clicks.
If you are serious to your SAT test and want to improve the final score, you have to own a strong SAT vocabulary. It means that you are ready to spend enough time to build SAT vocabulary. If you schedule at least 3 months for this job, 3000 Most Common SAT Vocabulary is a good candidate. Try some contents quickly, you may find it helps very much in your SAT preparing.
However, this vocabulary cannot cover all SAT test takers' requirements. If you think it doesn't match with your circumstance, the following questions and answers may help you.
May I have PDF file of this SAT vocabulary?
We didn't publish PDF version of this vocabulary. If you do want PDF version, there are two ways to make it. Actually they can help you customize your PDF file. We offer a free built-in app, which can be directly run from
Print Vocabulary in PDF RTF
. It can load all vocabularies of this website, including '3000 Most Common SAT Vocabulary' is one of them. The app can produce both PDF and RTF files.
Because our PDF maker doesn't support all languages, if your contents include non-English characters, these characters would be missed in final PDF file. If you plan to include non-English definitions, we suggest to follow
Download SAT Vocabulary PDF
. It's easy to get free Internet PDF makers to support your mother language, by which you can produce PDF files of this SAT vocabulary on demand.
Is there any alternative SAT vocabulary to study?
You may find many SAT vocabularies from Internet, our website also provides multiple lists. If you are serious to prepare SAT test, any smaller or easier vocabulary shouldn't be an option. Of course, some of them may be used as supplement. For example, if you are trying to challenge high score,
SAT Words with Sentences
is a better choice to enhance your writing vocabulary.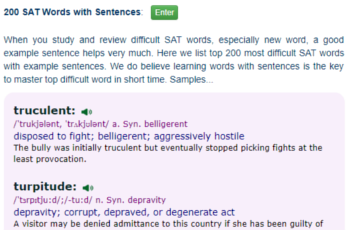 May I get eBook of this SAT vocabulary?
Some people used to learn new words by book or ebook. But we didn't publish ebook that exactly matches with this SAT vocabulary. For those who are looking for ebook of '3000 Most Common SAT Vocabulary', we recommend two ebooks that are very close. The basic level
SAT 1200 Words in 30 Days
is easy to start. You can get it from
Apple iBook
,
Google Books
,
Amazon Kindle
, or other stores.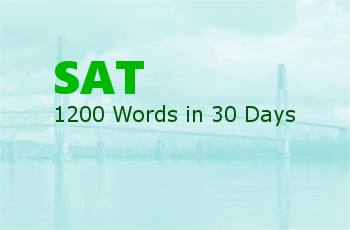 Another ebook
SAT 4000 Words
is larger and closer to '3000 Most Common SAT Vocabulary'. It deserves to have a try if you are looking for an ebook to replace this vocabulary. You can get it from
Apple iBook
,
Rakuten KoBo
, or other ebook distributors.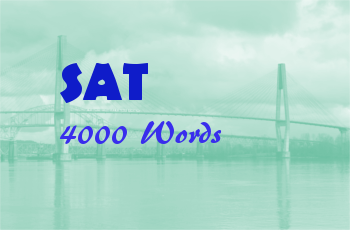 Last but not least,
SAT Official Website
is a right place to solve any SAT related puzzles. Any doubt or confusion involved with SAT vocabulary building may impact your efficiency and final score, don't hesitate to get here to clarify each question.
v. Syn. gather; accumulate
a. Syn. nimble; brisk
a.
a. Syn. related; similar
ad.
n.
......