| | |
| --- | --- |
| 3000 Common SAT Vocabulary List | |
1 Overview:
3000 Common SAT Vocabulary List is a middle level words list for test takers to warm up known words and learn new words. Usually students need three or more months to finish it. If you are aiming to good rank universities, the list is a solid start point to challenge harder SAT vocabularies.
The vocabulary consists of 3000 words that high school students, especially of 12th grade, should master before SAT exam. In addition to normal definitions and explanations, the vocabulary also includes interactive exercises, such as meaning matching and spelling. These exercises, which are available for each word, can be launched through a few clicks. For those who prefer to study SAT vocabulary offline or by tradition way, the vocabulary offers printable flashcards and PDF files.
If you want to have a better SAT score, you have to own a strong SAT vocabulary that impacts all test modules. It means that you will spend more time on studying SAT words. If you schedule 3 months or more, this list is a good candidate. Try some contents quickly, you can know if it matches with your current vocabulary level and helps to up vocabulary skill in efficient.
It's a quick view of Group 1. If you are interested in other groups (2-20) of this SAT vocabulary, watch them at
YouTube
.
Last but not least,
SAT Official Website
is a right place to solve problems related to SAT test. Any doubts or questions about SAT vocabulary may hurt your preparing and even final score, don't hesitate to get there and clarify them.
2 Alternative SAT vocabularies:
We know one words list cannot cover all SAT test takers' requirements. If you think 3000 Common SAT Vocabulary List doesn't match with your circumstance, please try any alternative lists of the web site. (You can also look for other SAT words list from Internet.) Here we introduce some other SAT vocabularies of the web site.
If you are serious to prepare SAT test, any smaller or easier words list shouldn't be an option unless you use it as supplement. For example, if you are trying to challenge high score,
Difficult Words with Meaning and Sentence
is a better choice to learn more new difficult words.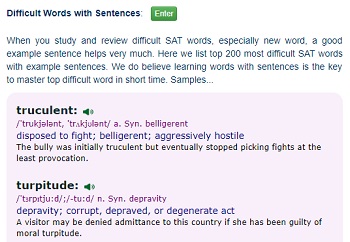 Another 2 vocabularies are deserved to recommend too. As supplements of 3000 common SAT vocabulary list, they are very useful to enhance reading and writing words respectively, especially for high score hunters.
3 PDF and Ebook of SAT words:
DIY - PDF files
Some students use PDF files to study English words. We did publish some PDF files of this SAT vocabulary list. However, if you aren't VIP, or your mother language isn't Arabic, Hindi, Urdu, Russian, or Chinese, possibly you cannot download what you need. If so, you still have two ways to make own PDF files based on the SAT vocabulary list.
We provide a free web app to help you customize PDF through vocabularies, which can be directly run from
Print Vocabulary in PDF RTF
. It can load all vocabularies of this web site; '3000 Common SAT Vocabulary List' is one of them. The app can actually produce both PDF and RTF files.
Because our PDF maker doesn't support all languages, if your contents include non-English characters, these characters may be missed in final PDF file. If you plan to include non-English definitions, we suggest to follow
Download SAT Vocabulary PDF
. It's easy to get free Internet PDF makers to support your mother language, by which you can produce PDF files of this SAT vocabulary list on demand.
Existing PDF files
Ebook of SAT vocabulary
Some people used to learn new words by Ebook, but we didn't publish Ebook of this SAT words list. For those who are looking for Ebook of '3000 Common SAT Vocabulary List', we recommend two other Ebooks. The basic level
SAT 1200 Words in 30 Days
is easy to start. You can get it from
Apple iBook
,
Google Books
,
Amazon Kindle
, or other stores.
Another Ebook
SAT 4000 Words
is larger and closer to '3000 Common SAT Vocabulary List'. It deserves to have a try if you are looking for an Ebook to replace this vocabulary. You can get it from
Amazon Kindle
or other Ebook distributors.
4 View all words by groups:
Go to Word List by Group:
Select Vocabulary Group:
Words of Group
11 (Part of words, select list to view all.)
:
intermission
intermittent
interpose
interrogate
interrupt
intersect
intervene
intestine
intimacy
intimidate
intolerant
intoxicate
intrepid
intricacy
intricate
intrigue
intrinsic
intrude
intrusion
intuition
inundate
inure
invalid
invalidate
invaluable
invasion
invective
inverse
invert
inveterate
invidious
invigorate
invincible
inviolable
invoke
involuntary
involve
invulnerable
iota
irascible
irate
ire
iridescent
irksome
irony
irradiate
irrational
irrelevant
irreparable
irrepressible
irresistible
irresponsible
irreverence
irreverent
irreversible
irrigate
irritable
irritate
isle
isolate
itinerant
itinerary
jargon
jeopardize
jocose
jocular
jovial
jubilation
judicial
judicious
juicy
junction
juncture
junta
jurisdiction
jurisprudence
justification
juvenile
kernel
kiln
laborious
labyrinth
lackadaisical
laggard
landscape
languid
languor
lapse
latent
lateral
laud
laudable
lave
lax
laxative
leaflet
leaven
legacy
legible
legislate
legitimate
leisure
leniency
lenient
lethargy
lever
leviathan
levity
...
5 Demonstrate word list style:
accusation:

n. Syn. indictment; charge
indictment; charge of wrongdoing that is made against a person or other party
acerbity:

n.
bitterness of speech and temper; sourness or acidness of taste, character, or tone
acid:

n.
sour; water-soluble compounds having a sour taste; quality of being sarcastic, bitter, or scornful
acme:

n. Syn. apex; apogee; climax; summit
the highest point or level, as of achievement or development; maturity or perfection of animal
acquiesce:

v. Syn. assent
assent; agree without protesting
acrid:

a. Syn. sharp; bitter
unpleasantly sharp or bitter to taste or smell; bitterly pungent
6 Word meaning matching - Test words you know:
| | |
| --- | --- |
| | washing or cleansing of the body, especially as part of religious rite |
| | one of two or more things, ideas or courses of action that may be used; option; choice |
| | let off hook; relieve of requirement or obligation |
| | confirmative; ratifying; giving assent or approval; confirming |
| | |
| --- | --- |
| | put into motion or action; activate |
| | obscure; profound; difficult to understand. |
| | preposterous; ridiculously incongruous or unreasonable; foolish |
| | struck by shock, terror, or amazement |
| | |
| --- | --- |
| | preposterous; ridiculously incongruous or unreasonable; foolish |
| | bitterness of speech and temper; sourness or acidness of taste, character, or tone |
| | unclear or doubtful in meaning |
| | the highest point or level, as of achievement or development; maturity or perfection of animal |
| | |
| --- | --- |
| | moved by sexual love; loving |
| | modify; cause to change; make different; convert |
| | indictment; charge of wrongdoing that is made against a person or other party |
| | do a favor or service for; provide for; supply with; make suitable; adapt; allow for |
| | |
| --- | --- |
| | coming or arrival, especially of something extremely important |
| | authorize; commission; give credit for |
| | gather into a mass, sum, or whole; amount to |
| | the highest point or level, as of achievement or development; maturity or perfection of animal |
| | |
| --- | --- |
| | apart; remote in manner; distant physically or emotionally; reserved and remote |
| | one who manages a government agency or department |
| | put into motion or action; activate |
| | |
7 Interactive spelling - Check your spelling skill online: