| | |
| --- | --- |
| 3000 Common SAT Vocabulary List | |
1 Overview:
3000 Common SAT Vocabulary List is a middle level words list for test takers to warm up known words and learn new words. Usually students need three or more months to finish it. If you are aiming to good rank universities, the list is a solid start point to challenge harder SAT vocabularies.
The vocabulary consists of 3000 words that high school students, especially of 12th grade, should master before SAT exam. In addition to normal definitions and explanations, the vocabulary also includes interactive exercises, such as meaning matching and spelling. These exercises, which are available for each word, can be launched through a few clicks. For those who prefer to study SAT vocabulary offline or by tradition way, the vocabulary offers printable flashcards and PDF files.
If you want to have a better SAT score, you have to own a strong SAT vocabulary that impacts all test modules. It means that you will spend more time on studying SAT words. If you schedule 3 months or more, this list is a good candidate. Try some contents quickly, you can know if it matches with your current vocabulary level and helps to up vocabulary skill in efficient.
Last but not least,
SAT Official Website
is a right place to solve problems related to SAT test. Any doubts or questions about SAT vocabulary may hurt your preparing and even final score, don't hesitate to get there and clarify them.
2 Alternative SAT vocabularies:
We know one words list cannot cover all SAT test takers' requirements. If you think 3000 Common SAT Vocabulary List doesn't match with your circumstance, please try any alternative lists of the web site. (You can also look for other SAT words list from Internet.) Here we introduce some other SAT vocabularies of the web site.
If you are serious to prepare SAT test, any smaller or easier words list shouldn't be an option unless you use it as supplement. For example, if you are trying to challenge high score,
Difficult Words with Meaning and Sentence
is a better choice to learn more new difficult words.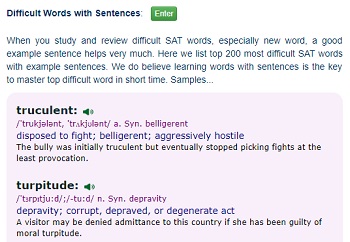 Another 2 vocabularies are deserved to recommend too. As supplements of 3000 common SAT vocabulary list, they are very useful to enhance reading and writing words respectively, especially for high score hunters.
3 PDF and Ebook of SAT words:
DIY - PDF files
Some students use PDF files to study English words. We did publish some PDF files of this SAT vocabulary list. However, if you aren't VIP, or your mother language isn't Arabic, Hindi, Urdu, Russian, or Chinese, possibly you cannot download what you need. If so, you still have two ways to make own PDF files based on the SAT vocabulary list.
We provide a free web app to help you customize PDF through vocabularies, which can be directly run from
Print Vocabulary in PDF RTF
. It can load all vocabularies of this web site; '3000 Common SAT Vocabulary List' is one of them. The app can actually produce both PDF and RTF files.
Because our PDF maker doesn't support all languages, if your contents include non-English characters, these characters may be missed in final PDF file. If you plan to include non-English definitions, we suggest to follow
Download SAT Vocabulary PDF
. It's easy to get free Internet PDF makers to support your mother language, by which you can produce PDF files of this SAT vocabulary list on demand.
Existing PDF files
Ebook of SAT vocabulary
Some people used to learn new words by Ebook, but we didn't publish Ebook of this SAT words list. For those who are looking for Ebook of '3000 Common SAT Vocabulary List', we recommend two other Ebooks. The basic level
SAT 1200 Words in 30 Days
is easy to start. You can get it from
Apple iBook
,
Google Books
,
Amazon Kindle
, or other stores.
Another Ebook
SAT 4000 Words
is larger and closer to '3000 Common SAT Vocabulary List'. It deserves to have a try if you are looking for an Ebook to replace this vocabulary. You can get it from
Amazon Kindle
or other Ebook distributors.
4 View all words by groups:
Go to Word List by Group:
Select Vocabulary Group:
Words of Group
12 (Part of words, select list to view all.)
:
lucrative
ludicrous
luminary
luminosity
luminous
lunacy
lunar
lunatic
lurid
luscious
lustrous
luxuriant
lyric
macrocosm
madden
magician
magnanimous
magnate
magnetize
magnificence
magnificent
magnitude
maintain
maintenance
maize
makeup
malady
malcontent
malediction
malefactor
malevolent
malign
malignant
malleable
mallet
maltreat
mandate
mandatory
maneuver
mania
maniac
manifesto
mannerism
mantle
marine
maritime
maroon
martial
marvel
masonry
masquerade
massacre
massive
masterpiece
material
maternal
matrimony
matrix
maudlin
mawkish
maxim
maze
meager
meander
mechanics
meddlesome
mediate
medieval
mediocre
meditation
medley
mellifluous
melodious
melodrama
memento
memorable
menace
menagerie
mendacious
mendicant
mentality
mentor
mercantile
mercenary
meretricious
mesmerize
metamorphosis
metaphor
metaphysical
meticulous
metric
metropolis
metropolitan
mettle
microcosm
microscope
microscopic
mien
migrant
migrate
migratory
militant
mimic
miniature
minimize
minion
ministry
minority
...
5 Demonstrate word list style:
absence:

n.
state of being absent; state of being away
absolve:

v. Syn. release; liberate; exempt
let off hook; relieve of requirement or obligation
absorption:

n. Syn. assimilation; reception
process of absorbing nutrients into the body after digestion; state of mental concentration
abstemious:

a. Syn. temperate
sparing or moderation in eating and drinking; temperate
abstruse:

a. Syn. obscure; profound
obscure; profound; difficult to understand.
abundant:

a. Syn. plentiful
plentiful; possessing riches or resources
6 Word meaning matching - Test words you know:
| | |
| --- | --- |
| | being of the most miserable kind; wretched; lacking pride; brought low in condition or status |
| | having properties of vinegar; sour |
| | a portable box-shaped free-reed instrument; reeds that are made to vibrate by air from the bellows controlled by the player |
| | give up, renounce, abandon, lay down, or withdraw from, as a right or claim |
| | |
| --- | --- |
| | dissimilar, inconsistent, or opposed in nature; very different place, society, or person |
| | calm; pacify; reduce the intensity of; relieve |
| | aid, usually in doing something wrong; encourage |
| | equip; provide with military equipment |
| | |
| --- | --- |
| | state of misfortune, hardship, or affliction; misfortune |
| | being of the most miserable kind; wretched; lacking pride; brought low in condition or status |
| | cheerful promptness or willingness; eagerness; speed or quickness |
| | assent; agree without protesting |
| | |
| --- | --- |
| | agree; give consent, often at insistence of another; concede |
| | travel with; be associated with |
| | apart; remote in manner; distant physically or emotionally; reserved and remote |
| | something added or to be added, especially a supplement to a book |
| | |
| --- | --- |
| | a portable box-shaped free-reed instrument; reeds that are made to vibrate by air from the bellows controlled by the player |
| | adjoining; neighboring; close to; lying near |
| | partner in crime; associate in wrongdoing |
| | |
| | |
| --- | --- |
| | easily approachable; warmly friendly |
| | a portable box-shaped free-reed instrument; reeds that are made to vibrate by air from the bellows controlled by the player |
| | confirmative; ratifying; giving assent or approval; confirming |
| | agree; give consent, often at insistence of another; concede |
7 Interactive spelling - Check your spelling skill online: