| | |
| --- | --- |
| 3000 Common SAT Vocabulary Words | |
1 Overview:
3000 Common SAT Vocabulary Words is a middle-level list for test-takers to warm up known words and learn new words. Usually, students need three or more months to finish it. If you aim to good rank universities, the list is a solid start point to challenge harder SAT vocabulary.
The voca consists of 3000+ SAT words that high school students, especially of 12th grade, should master before SAT exam. In addition to normal definitions and explanations, the vocabulary also includes interactive exercises, such as meaning matching and spelling. These exercises, which are available for each word, can be launched with a few clicks. For those who prefer to study SAT vocabulary offline or in a traditional way, the vocabulary offers printable flashcards and PDF files.
If you want to have a better SAT score, you have to own a strong SAT vocabulary that impacts all test modules. It means that you will spend more time studying SAT words. If you schedule 3 months or more, this list is a good candidate. Try some content quickly; you can know if it matches your current vocabulary level and helps to up vocabulary skill efficiently.
Does this SAT Vocabulary List meet your case? We divide the words into 3 levels; each level consists of 4 groups. Want to view them quickly? Watch them here.
Last but not least,
SAT Official Website
is the right place to solve problems related to the SAT. Any doubts or questions about SAT vocabulary may impact your preparation and even final score, don't hesitate to get there and clarify them.
2 Alternative SAT vocabularies:
We know one words list cannot cover all SAT takers' requirements. If you think the 3000 Common SAT Vocabulary List doesn't match your circumstance, please try other lists on the website. (You can also look for more SAT vocabulary lists from the Internet.)
However, if you are serious about preparing for SAT, any smaller or easier lists shouldn't be an option unless you use them as a supplement. For example, the following 2 vocabularies are deserved to recommend. As for supplements of 3000 common SAT vocabulary, they are very useful for enhancing reading and writing words, especially for high score hunters.
3 Words' EBook, PDF, and Cards:
SAT Vocabulary EBook
We have published ebook that exactly matches the 3000 Common SAT Vocabulary List. Students can buy from main ebook distributors.
SAT Vocabulary PDF List
Some students like using PDF lists to learn and review words. We do offer a handy feature to make SAT PDF word list for each group. Below are demos of
Level 1's first group
, including 9 non-English explanations.
SAT Vocabulary Cards
Cards are useful tools for some students to study new words. We offer two buttons to make SAT one-side and two-side flashcards for each group. Below are one-side cards for
Level 1's first group
, including 9 non-English explanations.
DIY - PDF files
Some students need PDF files to study English words. We did publish some SAT vocabulary lists in PDF. However, we encourage our visitors to create customized files based on our SAT vocabulary lists.
We have provided a web app to customize PDF through various vocabularies, which can be directly run from
Print Vocabulary in PDF
. It can load all vocabularies of this website; 3000 Common SAT Vocabulary List is one of them.
If you need more flexible solutions, e.g., you plan to include non-English definitions, we suggest to follow
Download SAT Vocabulary PDF
. In addition to print the whole group's words, it tells you how to leverage other free Internet PDF tools to produce a PDF file based on this website's vocabulary lists in a few minutes.
4 Manage Word Status:
To speed up your studying, you can manage words by marking them as New, Known, and Review status. There are two ways: Note page or Panel page to manage words' statuses. You can also save statuses to the cloud and sync back if your device has trouble or want to switch to other devices.
Word status works for all vocabularies on the website, including 3000 SAT Words. It is a handy flag to skip known words and focus on new and half-familiar words.
By Note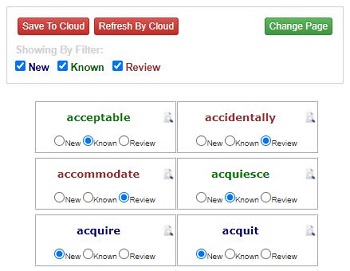 By Panel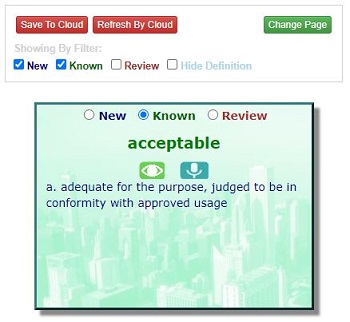 5 View all words by groups:
Go to Word List by Group:
Select Vocabulary Group:
Words of Group
1
:
(Part of words, select list to view all.)
abandon
abduction
abject
abrasive
absolute
absolve
absorb
abstinence
abstract
abusive
abyss
academic
accelerate
accessible
accessory
accommodate
accomplice
accord
acknowledge
acme
acquire
acquittal
acute
adage
adamant
adapt
addiction
address
adept
adhere
adjacent
administration
adolescence
adversary
adverse
adversity
...
6 Demonstrate word list style:
adage

n. wise saying; brief familiar proverb;  expression of popular wisdom
After reflecting on how I felt a year ago during the election itself and how I feel now, I do have to say that the adage is true: governing is harder than campaigning.
Show examples and contexts

adapt

v. make fit for; change to suit a new purpose
One way to adapt is to become smaller, generation by generation.
Show examples and contexts

address

v. make a formal speech to; deal with or discuss; direct efforts or attention of
Brown planned to address the issue of low-income housing in his speech.
Show examples and contexts

adhere

v. stick fast; stick to firmly; be compatible or in accordance with
That is why the claying is necessary; it makes the grain adhere to the earth; otherwise, it would float.
Show examples and contexts

administration

n. management; supervision; people who are in charge of management; the activity of government for powers and duties
Obviously, the key person in administration is the man in the White House.
Show examples and contexts

adversary

n. the opponent in a contest; someone who offers opposition
The young wrestler struggled to defeat his adversary.
Show examples and contexts

7 Word meaning matching - Test words you know:
| | |
| --- | --- |
| | a. divided into squares; diversified in color; marked by great changes or shifts in fortune |
| | v. convert code into ordinary language; read with difficulty |
| | v. provide physical relief, as from pain; make easier; remove in part |
| | n. clients of professional person; the body of customers or patrons |
| | |
| --- | --- |
| | a. speaking or behaving in an artificial way; emotionally stirred or moved; infected or attacked |
| | v. achieve or accomplish; gain |
| | a. lacking moral sensibility; not caring about right and wrong |
| | n. firm dislike; turning away; avoidance of a thing, situation, or behavior because of dislike |
| | |
| --- | --- |
| | n. a small section of filmed or filed material |
| | a. skeptical of motives of others; selfishly calculating; negative or pessimistic |
| | v. find out for certain; discover with certainty; make sure of |
| | a. lacking moral sensibility; not caring about right and wrong |
| | |
| --- | --- |
| | a. utterly stupid or silly; inanely foolish |
| | a. divided into squares; diversified in color; marked by great changes or shifts in fortune |
| | a. skeptical of motives of others; selfishly calculating; negative or pessimistic |
| | n. absence of governing body; state of disorder; political disorder and confusion |
| | |
| --- | --- |
| | v. turn to the advantage of; be of service to; profit; promote |
| | v. achieve or accomplish; gain |
| | a. deep and resonant; flourishing; thriving |
| | a. skeptical of motives of others; selfishly calculating; negative or pessimistic |
8 Interactive spelling - Check your spelling skill online:

[Esc] v. do a favor or service for; provide for; supply with; make suitable; adapt; allow for


[Esc] v. stick fast; stick to firmly; be compatible or in accordance with


[Esc] a. adjoining; neighboring; close to; lying near


[Esc] n. mixture; a combination of diverse things


[Esc] a. out of proper order; not in perfect shape; faulty


[Esc] a. lacking moral sensibility; not caring about right and wrong