1 Overview:
When high school students prepare an ACT exam, so many tasks are on their list. Review and enhance ACT vocabulary is usually the hardest one. Here we help you master ACT words efficiently. As we know, ACT consists of multiple sections; three of them are actually to test English skills. Words are the essential elements of any language. If you want to succeed in ACT, you have to build a strong ACT vocabulary seriously.
You may see an ACT vocabulary list somewhere, but official ACT vocabulary doesn't exist. ACT words list is only a concept to refer a vocabulary related to ACT exam, it encloses words that probably occur or once occurred on ACT papers; its contents vary on different scenarios: the test takers' level and pursuit. This ACT words list matches the average 12th-grade students and concentrates on the requirement of its reading section.
Vocabulary is a critical asset in all reading tests. You have a chance to get a good score in reading test only when having strong ACT vocabulary. Compared with other test sections, like writing, reading test has the most robust vocabulary criteria. Namely, writing words are usually in reading vocabulary, but the reverse isn't true. So if you plan to choose one vocabulary to cover all test sections, this list is the right candidate.
3500 ACT Vocabulary is an all in one middle-level words list. On average, 12th-grade students should schedule 3 to 6 months to master the words. Given the reading test, students had better learn or understand all words of the vocabulary; meanwhile, some students also pick up some words to exercise spelling and prepare for writing test. For general ACT test-takers, these words can cover the core requirements in preparing the ACT exam.
ACT organizer insists that the test doesn't emphasize strong or large vocabulary; it seems to be true. However, it doesn't mean you have any chance to have a good score by bad vocabulary skill. Vocabulary is the foundation of any English test, and ACT has no exception. Want to improve your performance in ACT? This vocabulary will give you a hand.
ACT vocabulary plays a crucial role in your ACT final score.
ACT Official Website
will give you authoritative information to work out a reasonable ACT vocabulary building plan.
2 Alternative vocabularies:
Test takers have various requirements on vocabulary building; it's impossible to handle them with one ACT words list. Is there any alternative ACT vocabulary to choose? Yes, you can get various ACT vocabularies from this or other websites. Beside, vocabularies for SAT exam or high school study are possibly good options too.
We think '3500 ACT Vocabulary' is the first choice for most students. You may find some others as a supplement for some special purposes. For example, our website offers
ESL ACT Vocabulary
, which helps ESL (English as Second Language) students to overcome the gap of everyday life words.
Some students, who are working hard to challenge the high score, need more difficult words to enhance vocabulary skill.
Difficult Words with Meaning and Sentence
is deserved to have a look. It's short but can improve your writing vocabulary level.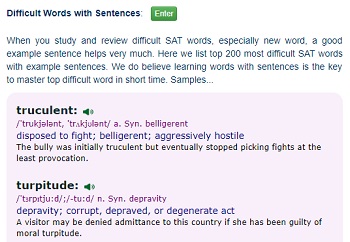 3 PDF and Ebook:
DIY - PDF of ACT vocabulary
May I have PDF file of this ACT vocabulary?
The answer is yes. Although you cannot download a DEF file of '3500 ACT Vocabulary' directly, you have two ways to create customized PDF based on the words list.
One way is to run a free built-in app,
Print Vocabulary in PDF RTF
. It can load '3500 ACT Vocabulary', as well as all vocabularies of this website. The handy tool can filter your known words, create a personalized version, and output as either PDF or RTF files.
However, if your contents have non-English characters, e.g., Russia characters, these special characters will be missed in the final PDF file, because our PDF maker doesn't support all languages. In this case, please follow
Download ACT Vocabulary PDF
. It shows you step by step to produce PDF files of this ACT vocabulary by leveraging free Internet PDF makers.
Existing PDF Files
Ebook of ACT vocabulary
We didn't publish an ebook of '3500 ACT Vocabulary' or any other ACT vocabulary ebook. If you like to study or review words by reading an ebook, we recommend two SAT ebooks instead.
SAT 1200 Words in 30 Days
(basic level) can be used as warm-up for all test takers to kick off ACT words building. It is available at:
Apple iBook
,
Google Books
,
Amazon Kindle
, and other leading ebook distributors.
SAT 4000 Words
(basic, middle, and high level) is very close to '3500 ACT Vocabulary'. Although SAT and ACT are different tests and have separate styles, both are to evaluate high school students' academic level. The ebook is available at
Amazon Kindle -USA
, and other leading ebook distributors.
Below are quick links to
Amazon Kindle
's ACT, SAT, and GRE vocabulary Ebook.
4 View all words by groups:
Go to Word List by Group:
Select Vocabulary Group:
Words of Group
2 (Part of words, select list to view all.)
:
baboon
bacchanalian
badinage
baffle
balanced
bald
baleful
balk
ballast
balloon
banal
bandanna
bandleader
bandy
banner
banquet
bantering
barber
bard
barely
barge
baroque
barrage
barricade
barterer
bask
bastion
bate
bauble
bawdy
beard
beatific
beatitude
becalm
beckon
becloud
bedizen
bedraggle
bedrock
beeline
befuddle
beget
beguile
behemoth
belabor
belated
beleaguer
belie
bellicose
belligerent
bemoan
bemused
benediction
beneficial
benign
bequeath
bequest
berate
bereavement
bereft
beset
besiege
besmirch
bestial
bestow
betoken
betroth
bevy
bewilder
bicameral
bicker
biennial
bigotry
bilious
bilk
bill
billowing
bitter
bivouac
bizarre
blanch
bland
blandishment
blanket
blare
blast
blench
blighted
blithe
block
bloom
bludgeon
blues
blunder
blunt
bluster
boastful
bohemian
boisterous
bolster
bombardment
bombastic
boon
boorish
bore
bounce
boundary
boundless
...
5 Demonstrate word list style:
abnegate:

give up or surrender; deny something to oneself
abolish:

cancel; put an end to; destroy completely
abominable:

detestable; extremely unpleasant; very bad
abortive:

unsuccessful; failing to accomplish an intended objective; fruitless
abrasive:

rubbing away; tending to grind down
abrogate:

abolish, do away with, or annul, especially by authority
6 Word meaning matching - Test words you know:
| | |
| --- | --- |
| | elevation especially above sea level; height |
| | rubbing away; tending to grind down |
| | in an uncomfortable, nervous or embarrassed way |
| | one who is skeptical of existence of a god or any ultimate reality |
| | |
| --- | --- |
| | |
| | expression of warm approval; praise |
| | assault; attack with or as if with violent blows |
| | expressing oneself easily in clear and effective language |
| | |
| --- | --- |
| | fearlessly, often recklessly daring; bold |
| | one who is skeptical of existence of a god or any ultimate reality |
| | declare openly; acknowledge openly, boldly, and unashamedly |
| | improved; highly developed or complex; ahead of the times; progressive |
| | |
| --- | --- |
| | abnormal; markedly different from an accepted norm |
| | feeling of hostility that arouses thoughts of attack; quality of being bold and enterprising |
| | insult; offense; intentional act of disrespect |
| | glue; paste ; substance that unites or bonds surfaces together |
| | |
| --- | --- |
| | hand tool for boring holes; hollow drill used to take core samples of soil, ice |
| | increase scope of; extend; intensify; make greater in power, influence, stature, or reputation |
| | put into motion or action; activate |
| | rubbing away; tending to grind down |
| | |
| --- | --- |
| | gain through experience or effort; gain possession of; locate with tracking system |
| | attended by favorable circumstances; marked by success; prosperous |
| | expression of warm approval; praise |
| | feeling of hostility that arouses thoughts of attack; quality of being bold and enterprising |
7 Interactive spelling - Check your spelling skill online: