1 Overview:
Many tasks are on their list when high school students prepare for an ACT exam. Reviewing and enhancing ACT vocabulary is usually the hardest one. Here we will help you master ACT words efficiently. As we know, ACT consists of multiple sections; three are actually to test English skills. Words are the essential elements of any language. If you want to succeed in ACT, you have to build a strong ACT vocabulary seriously.
You may see an ACT vocabulary list somewhere, but official ACT vocabulary doesn't exist. The ACT word list is only a concept to refer to a list related to the ACT exam; it encloses words that probably will occur or once occurred on ACT papers, whose contents vary on different scenarios: the test takers' level and pursuit. This ACT words list matches the average 12th-grade students and concentrates on the requirement of its reading section.
Vocabulary is a critical asset in all reading tests. You can only get a good score on reading tests with solid ACT vocabulary. The reading test has the most robust vocabulary criteria compared to other test sections, like writing. Namely, writing words are usually in reading vocabulary, but the reverse isn't true. So if you plan to choose one vocabulary to cover all test sections, this list is the right candidate.
3500 ACT Vocabulary is an all-in-one middle-level word list that covers the core requirements in preparing for the exam. 12th-grade students should schedule 3 to 6 months to master the words. Given the reading test, students had better learn or understand all vocabulary words.
ACT organizer insists that the test doesn't emphasize strong or large vocabulary; it seems true. However, it doesn't mean you have any chance of having a good score with bad vocabulary skills. Vocabulary is the foundation of any English test, and ACT has no exception. Want to improve your performance in the ACT? This vocabulary will give you a hand.
ACT vocabulary plays a crucial role in your ACT final score.
ACT Official Website
will give you authoritative information to work out a reasonable ACT vocabulary plan.
2 Alternative vocabularies:
Test takers have various requirements for vocabulary building; it's impossible to handle them with one ACT word list. Is there any alternative ACT vocabulary? Yes, you can get various ACT vocabularies from this or other websites. Besides, vocabularies for the SAT exam or high school study are possibly good options.
We think '3500 ACT Vocabulary' is the first choice for most students. You may find some others as a supplement for some particular purposes. For example, our website offers
ESL ACT Vocabulary
, which helps ESL (English as Second Language) students to overcome the gap of everyday life words.
Some students working hard to challenge the high score need more difficult words to enhance vocabulary skills.
Difficult Words with Meaning and Sentence
is deserved to have a look. It's short but can improve your writing vocabulary level.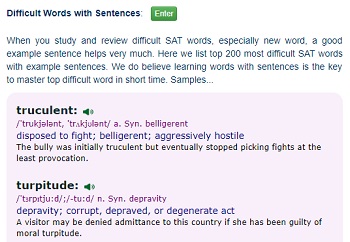 3 PDF and Ebook:
DIY - PDF of ACT vocabulary
May I have a PDF file of this ACT vocabulary?
The answer is yes. Although you cannot download a DEF file of '3500 ACT Vocabulary' directly, you have two ways to create a customized PDF based on the word list.
One way is to run the web app
Print Vocabulary in PDF
. It can load '3500 ACT Vocabulary', similar to all vocabularies of this website. The handy tool can filter your known words, create a personalized version, and output as PDF files.
If you need more flexibility to create an ACT vocabulary PDF, please follow
Download ACT Vocabulary PDF
. It shows you step by step to produce PDF files of this ACT vocabulary by leveraging free Internet PDF makers.
Existing PDF Files
Ebook of ACT vocabulary
We didn't publish an ebook of '3500 ACT Vocabulary' or any other ACT vocabulary ebook. We recommend one SAT ebook instead if you like to study or review words by reading an ebook.
3000 SAT Vocabulary List
is very close to '3500 ACT Vocabulary'. Although SAT and ACT are different tests and have separate styles, both are to evaluate high school students' academic levels. The ebook is available at leading ebook distributors.
4 View all words by groups:
Go to Word List by Group:
Select Vocabulary Group:
Words of Group
9 (Part of words, select list to view all.)
:
nadir
naivete
narcotic
nascent
nauseate
navigable
nebulous
necromancy
negate
neglect
negligible
negotiation
neologism
neonate
neophyte
nepotism
nettle
neutral
neutron
nicety
nihilist
noisome
noisy
nomadic
nomenclature
nominal
nonchalance
noncommittal
nonconformist
nonconformity
nondescript
nonentity
nonplus
nonverbal
nostalgia
nostrum
notable
notably
notoriety
notorious
notoriously
noxious
nucleus
null
nullify
numismatist
nuptial
nutrient
nutritional
oaf
obdurate
obese
obfuscate
obligation
obligatory
oblige
oblique
obliterate
obsequious
obsessed
obstetrician
obstinate
obstreperous
obtain
obtrude
obtuse
obviate
obvious
occupy
odious
odium
odorless
odorous
offensive
officious
ogle
olfactory
oligarchy
omit
omnipotent
omnipresent
omniscient
omnivorous
onerous
onus
opalescent
opaque
opiate
opine
opportune
opportunity
opposed
opprobrious
optician
optimistic
opulence
opus
oracular
orator
oratorio
orchard
ordain
ordination
organically
orient
originate
ornate
ornery
...
5 Demonstrate word list style:
6 Word meaning matching - Test words you know:
| | |
| --- | --- |
| | refrain; hold oneself back voluntarily from an action or practice |
| | struck by shock, terror, or amazement |
| | indirect reference; symbolical reference or comparison; metaphor |
| | serving as aid or accessory; auxiliary |
| | |
| --- | --- |
| | assent; agree without protesting |
| | serving as aid or accessory; auxiliary |
| | leave quickly and secretly and hide oneself, often to avoid arrest or prosecution |
| | gain through experience or effort; gain possession of; locate with tracking system |
| | |
| --- | --- |
| | gain through experience or effort; gain possession of; locate with tracking system |
| | ash-colored; very pale; consisting of ashes |
| | make slender, fine, or small; weaken; lessen density of |
| | eager; keen; worried; uneasy and apprehensive about an uncertain event or matter |
| | |
| --- | --- |
| | ash-colored; very pale; consisting of ashes |
| | in the middle of; among; surrounded by |
| | letdown in thought or emotion; decline viewed in disappointing contrast with previous rise |
| | something added or to be added, especially a supplement to a book |
| | |
| --- | --- |
| | serving as aid or accessory; auxiliary |
| | fondness; tender feeling toward another; fondness |
| | large cage, building, or enclosure in which birds are reared or kept |
| | brutal deed; atrocious condition, quality, or behavior; monstrousness |
| | |
| --- | --- |
| | not normal; unusual or irregular; not representative of a group, class, or type |
| | collection; heap; act or process of gathering into a mass |
| | govern; supervise; give or apply medications |
| | fastened together; joined by wall, especially by sharing a wall with another building; not freestanding |
7 Interactive spelling - Check your spelling skill online: