This is the largest vocabulary for TOEFL among this website and consists of 5000 words. Quickly learn and review big vocabulary isn't an easy task for most of students. We will help you to own this TOEFL vocabulary through cutting edge information technology.
Building vocabulary is one of the hardest jobs to prepare TOEFL test. If you will take the test next month, but you didn't prepare or review any TOEFL word list yet, the first of first is to get a proven TOEFL vocabulary list and work on it immediately. This 5000 TOEFL vocabulary is an excellent list for you to own TOEFL words in fast way.
What we provide isn't only a word list; it is integrated with modern information technology to let your learning and reviewing efficiently. Assumed that you know or half know some words already, it is designed to help you work as fast as possible, not only focus to study new words but avoid wasting time on known words.
By default, words are shown in alone and no definitions with them. So you can quickly skim a page. Each word has a Look Up button in case you want to get its definition. You just click the button, the word's definition will be displayed on demand. If you want to study unknown words, it has lots of tools: such as built-in definitions, dynamic match and spelling practices, and printable cards, for each word to help you learn, review, and exercise.
This TOEFL vocabulary is relatively big with middle level. For most of test takers, the proven vocabulary can cover requirements of all test sections, namely, it's sufficient to prepare TOEFL test from listening to reading. If you have strong vocabulary skill, you may skim known ones quickly and save much of time to challenge more difficult vocabularies.
This TOEFL vocabulary list is particularly useful when test day is coming and you are planning to review TOEFL words in very narrow time frame. In such scenario, this list and its simple and convenient tools will help you prepare TOEFL vocabulary in fast paces.
We never think one vocabulary can handle all TOEFL test takers' cases, and we do offers other TOEFL vocabularies in the web site. If you think this word list doesn't match with your circumstance, please view below answers for some common questions.
May I have PDF file of this TOEFL vocabulary?
You can make own PDF file based on '5000 TOEFL Vocabulary List'. The first way is to run
Print Vocabulary in PDF RTF
, then load this list. The app actually can load all vocabularies of this website and has many powerful features. You can use it to create personalized TOEFL vocabulary PDF or RTF file.
If you have non-English explanations in PDF files, e.g. Chinese characters, because our PDF converter doesn't install this language yet, these characters will be shown as blank. If so, you may choose another generic method, follow as
Download TOEFL Vocabulary PDF
. It shows you how to produce a PDF file of this TOEFL vocabulary easily and quickly with free Internet PDF makers.
Is there an easier TOEFL vocabulary to substitute?
We do think 5000 TOEFL vocabulary is a basic option for serious test takers. However, if it looks too tough somehow, please view
TOEFL Word List 1600
, a shorter but also proven TOEFL vocabulary.
May I get eBook of this TOEFL vocabulary?
We didn't publish ebook that exactly matches with this 5000 TOEFL vocabulary yet. For students who are looking for TOEFL vocabulary ebooks, we recommend two ebooks. The basic level
TOEFL 1200 Words in 30 Days
is good to starters, available at main eBook stores, such as
Apple iBook
,
Google Books
,
Amazon Kindle
.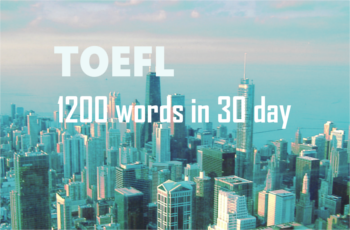 For high score hunters who need strong vocabulary skill, the
TOEFL 5000 Words
deserves to have a look. You can get it from
Apple iBook
,
Rakuten KoBo
, or other ebook distributors.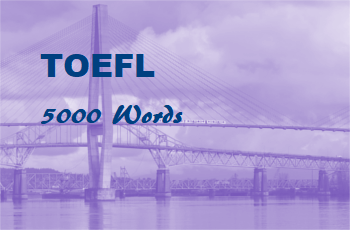 Building TOEFL vocabulary is the toughest task in your exam preparation, and the effort will decide the final score. If you cannot set your goal or have any confusion related to vocabulary building, visit
TOEFL Official Website
to get more information.
......