2 Other TOEFL vocabularies:
5000 TOEFL vocabulary list is particularly useful when test day is coming, and you are planning to review TOEFL words in a very narrow time frame. In such a scenario, the list and its convenient and straightforward practice tools will help you prepare TOEFL vocabulary in fast paces.
Although we believe the TOEFL vocabulary list is a primary option for serious test takers, we never think one vocabulary can handle all test takers' cases. We do offer other TOEFL vocabularies in the web site. If you feel this word list doesn't match your circumstance, please spend some time to get the right one.
Here we recommend two other vocabularies.
If 5000 TOEFL vocabulary looks too tough, or your schedule is very tight, please view
TOEFL Word List 1600
, which is a shorter but also useful TOEFL vocabulary to cover all test sections. In addition, this list offers explanations in multiple languages, an important feature that some ESL students prefer.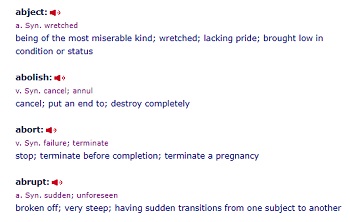 For those who are looking for vocabularies to enhance writing skill,
300 TOEFL Writing Vocabulary
is an ideal option. This small TOEFL word list has example sentences and explanations in multiple languages. It helps very much to enrich writing vocabulary.