Elementary Academic Words is a free online resource to help students in elementary schools to study academic vocabulary. All words have been grouped for students from kindergarten to grade 8, each grade consists of 4 lists: art, math, science, and social. It is an essential vocabulary for elementary academic classes, and is a must-have list for any students who are trying to understand teachers and share with friends in academic classes.

This app offers a very useful word list for separate grades and subjects. It is the core of app, and helps very much to guide students to learn and review what they exactly require. However, this app isn't only a wordlist, it offers study and exercise tools, such as online cards, printable cards, and printable quizzes, for each list. It includes 1000+ printable worksheets to help teachers organize warm-up, review, or quiz.

Elementary school students hardly learn or exercise by themselves. And considering the nature of language training of children, online materials and interactive exercise, like online lists and cards, although is handy, but cannot replace traditional training completely. Teachers and parents usually take worksheets as basic exercise methods, especially for low grades boys and girls. This app meets with such requirements. It offers online training as well as related printable resources for offline exercises.

Here we show some pictures of worksheets. Please don't miss these great resources to help kids master elementary academic vocabulary easier and quicker!


Quiz sample
List sample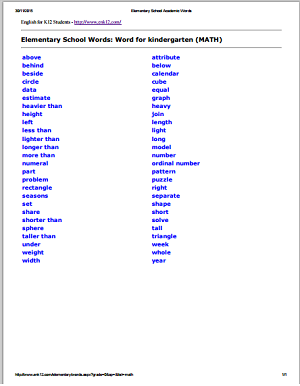 Card sample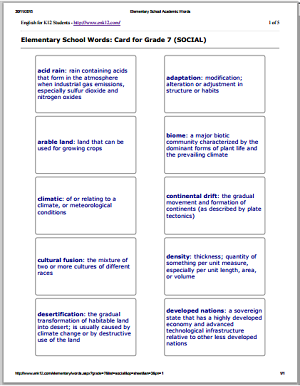 Card sample